Mock Trial competition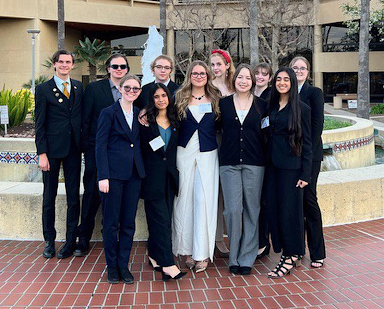 Over the course of four nights was the 2023 Mock Trial competition. Our Mock Trial participated in this from February 6 through February 9. These competitions occur annually at the Ventura County Office of Education. "The competition was filled with countless teams all performing the same case. While very nerve-racking, our team performed amazingly against very strong Mock Trial teams and succeeded in most of the rounds we participated in," said freshman Contessa Cunningham.  "It was awesome to compete in a real court since the past few years have been online. This year's case was robbery and battery. The defendant was accused of stealing their roommate's ring and injuring them in the process. We all had a lot of fun," said junior Ella McCrossan. 
McCrossan won second place for her position as Mock Trial prosecution attorney. "Individually, I won two countywide awards. I am double cast: as an attorney, I'm on prosecution and as a witness, I play the defendant. This year I got second place for both roles which is pretty cool. The witness award is out of the 26 people playing that witness and the attorney award is out of the 80-90 people who compete as prosecution attorneys in the county," said McCrossan. 
Mock Trial is an after-school program that consists of all positions that would typically be in a real trial of court. Mock Trial assigns its members at the beginning of the year. In regards to how Mock Trial functions, "Basically, we are given a case packet which is usually around 80 pages containing facts about the case, exhibits, and witness statements. Then, we work together as a team to develop a case based on the facts," said McCrossan. 
Mock Trial is an amazing opportunity for those interested in testing out the field of law.