All you need is a ball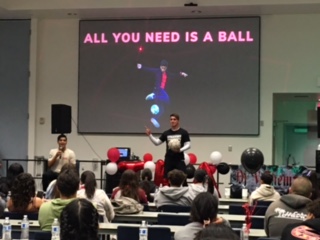 On January 24, at the Camarillo Ventura County Office of Education, was hosted a inspirational event called Kick Ash. Kick Ash is a celebration of educating students from throughout Ventura County on the dangers of drugs and synthetic opioids like fentanyl. This year, Team Kick Ash dedicated to opening students eyes of these threats through music and emotions that people normally do not talk about. They invited a few guest speakers, to speak about their personal interactions with drugs and how one mistake changed their whole life. Soon, we saw guest speaker, Alex Mendoza, a freestyle soccer champion, speak about his personal past about his journey with freestyle soccer, and how one smoke almost threatened his whole career.
Mendoza started his presentation with a bang. His partner performed many tricks since Mendoza faced an injury to his legs, putting him on crutches. These tricks wowed these students peaking their attention. Throughout his presentation, he interacted with the students through the anticipating raffle, and through teaching the students a small trick that he first learned. Mendoza even gifted many students with their own soccer ball, and even signed them as a small token of this exciting memory.
Soon, Mendoza started his emotional presentation with his own personal journey of how he got to his championship place for freestyle soccer, and how he turned how to be the celebrity that he his, making ads for large sports companies like Nike and Adidas. He starts off his introduction with where he was from, which is East Los Angeles. Mendoza goes into much detail about his childhood and how much of it affected who he is today. Mendoza said, "I went from training on the streets of East LA, with no spectators, in front of my parents house with very minimal space, to doing halftime shows for the LA Galaxy, and doing commercials for Cheetos, and more sports brands like Nike." Mendoza truly inspired the students with his message, showing that when you are determined and feel you have the potential, make sure nothing stops you along the way. Mendoza also stated, "What really matters is your drive and passion as talent sees no colors." This statement drives from his discrimination and bigotry he faced along the way with his journey in freestyle soccer. This touched many students hearts, helping them to be more inspired for the upcoming future of their own lives.
Throughout his story, Mendoza shares his progression with life and freestyle soccer, the progression with his career and how his life was becoming exactly what he wanted it to be, until one incident turned his whole life upside down. Mendoza speaks about the death of his older brother, the one brother that truly supported him and believed in him every step of the way with freestyle soccer. He speaks about how much his family suffered and how the constant question of "why" pervading his head. "Why us, why me, why my family, why make us endure such pain," Mendoza shared.
This is when he shared his vulnerable start with drugs. Mendoza states that he was in so much pain, that he wanted to disappear. Mendoza said, "I simply didn't care and because of that I let myself go, let myself to lose myself through substances like weed and drugs, and that was the biggest mistake of my life." He shared that through experimenting with his harmful substances. This threatened his career with freestyle football and he lost himself completely. Soon, Mendoza shares his journey of recovery and how he got back up on his two feet after the emotional breakthrough. That is when he shares that no matter what, everyone has a chance. We cannot let ourselves lose each other through substances like drugs to cope with pain, because you will only experience consistent pain. Everyone has a potential and chance at life, and you don't need to be rich or have all the money in the world. All you need is a ball.