A Sheraton Universal Prom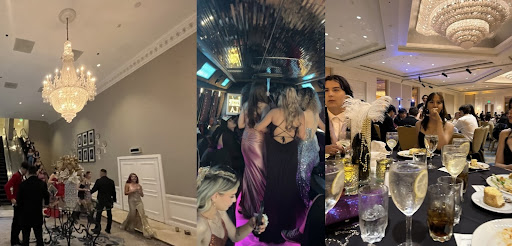 On Saturday, May 20, Prom was held at the Sheraton Universal Hotel in Universal City, Los Angeles. The event started at 7:00 p.m. and ended at around 11:00 p.m. Tickets were on sale for $125 with ASB and $130 without it or for guests. People drove to the event in all kinds of vehicles including party buses, limousines, hummers, sports cars, and many more. Once there students verified Go Fan tickets, went through a bag check, and received a coin to vote for Prom winners. 
Everyone voted for the prom court previously to the event and were able to choose from those selected nominees on who they wanted to win. Those coins were dropped into boxes with the names and then were counted up during the event. There ended up being three winners including seniors Bradley Mandell, Joy Oh, and Noah delaRionda.
Dinner included fire roasted chicken, caesar salad, vegetarian pasta, mac and cheese, bread rolls, mashed potatoes, and dessert. The dessert was a palm sized cheesecake which students enjoyed so much they went back to grab multiples. There was also a drink bar serving sprite, cola, and waiters bringing ice water around to all the tables as well. Highlanders, school staff, and permitted guests were able to enjoy as much food at the buffet as they wanted.
After enjoying the meal, the dance floor filled with tons of students all decked out in their dressed up outfits. The theme was The Roaring 20s and tons of students perused dressing accordingly for the event. Typically, students wear long dresses and tuxedos in a variation of colors, patterns, and fabrics when going to Prom. Tons of attendees have been posting and talking about how much fun they had due to Prom. Senior Madison Nutter said, "The dance was decorated very pretty, there was good music, the vibes were great, and overall I had a bunch of fun." Similarly, senior Fryda Salgeuro said, "The venue was very beautiful and I enjoyed my night."
Honest Light Photography attended to take one 5×7 and four wallet size photos for free. While if you would like the further purchase more than gifted you could. The photos will be distributed out to attendees on May 31 with caps and gowns. Another free photo service included a photo booth that printed out four pictures on black and white photo strips. Students loved the photo opportunities and there were always people using the featured equipment. Prom goers also took tons of photos before the event in different places across Simi. Some of the most popular were the Wood Ranch Park, Lemon Park, Universal City Walk, at the hotel, etc. Overall, the event could not have gone any better or have been decorated any more perfect for the theme of the night.