The most magical place for seniors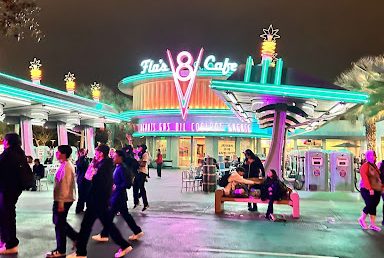 On May 12, this last Friday night, seniors had a blast at Grad Nite held at Disneyland California Adventure from 8 p.m. to 2 a.m. when the park was shut down and used only for high school seniors from many different schools.
Seniors filled up the new MPR at 4 p.m. sharp waiting for their assigned buses to take them away after walking through security. Buses F and E were the first to leave, but for buses A, B, and C they made it to California Adventure almost an hour after due to complications with the bus scheduling and traffic. Grace Hoolihan was on bus B and when she finally made it through the long security line at California Adventure she said, "That was ridiculous watching everyone else get to leave while we waited in the MPR for another hour, at least I got to sleep on the bus." The first round of students in Bus F reached the park by 8:30 p.m. and had to go through another line of security.
On the way back home from California adventure on bus E teachers Mr. Adam Lev and Mr. Richard Letus waited anxiously for security to find the two seniors that had been missing from their bus making them wait almost another full hour to leave making bus E get back to Royal at 4:30 a.m. Mr. Letus in reaction to the two seniors being late said, "The only reason people would be this late is because they just want to mess around and not care about the rules, or about getting home on time." Students had to exit the park through the entrance area and take a "Toy Story" bus to a different lot where the buses were stationed. The buses were all arranged in different areas, so many seniors had trouble finding their buses if they were not walking with their advisors.
Overall at the park, the most popular ride everyone wanted to get on was the improved Tower of Terror which has now changed into the "Rise of the Guardians". While the wait time was consistently over an hour long, senior Isabella Leon said it was her, "Favorite ride of the night, I love seeing the Rocket Racoon animatronic at the beginning makes it worth the wait." Other rides like Soaring Over America, Radiator Springs Racers, and Goofy's Flight school were all enjoyed throughout the night. Most seniors stopped to eat at the Pacific Wharf Cafe known for their mac and cheese bread bowls!
Rides such as the Incredicoaster and Ferris Wheel had been shut down for the night much to the seniors' disappointment but overall the class consensus was, "We had fun! But we wish it was less crowded and more rides were open."