CSI Project: Baby Bottle Campaign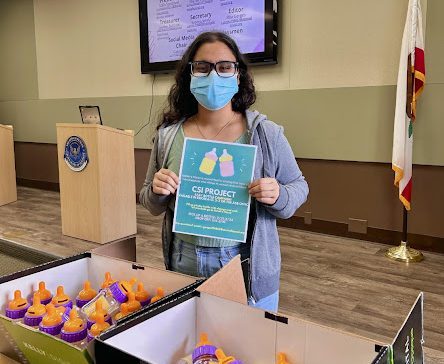 A CSI project is a service project that is created and led by students for the Ronald Reagan Citizen Scholar Institute Diploma Seal Program. The program is directed toward the school for grades 9-12, and the students involved in the program have the freedom of deciding the focus and topic of their project. Students have the opportunity of serving specific things they are passionate about. Through this process, students must complete the basic requirements to receive a CSI Diploma Seal. Some requirements include completing an authentic service learning project, presenting the purpose of your project to an advisory board, and enrolling in a Social Science AP or IB class. Through all of the requirements and planning junior Rita Gerges has managed to run a successful CSI project that will help many.
The baby bottle campaign has been going on for years at the Real Life Church in Simi Valley, this year Gerges was asked to lead the movement. She wanted to bring this campaign to the school's campus in support of Sarah's house. Sarah's house partners with women and children to assist them in getting better control of their lives and gaining independence. The program is designed to promote a sense of responsibility in the women they serve. The program offers professional counseling,  partnership with drug/alcohol treatment programs and life skills training, financial management and so much more. Sarah's House has helped many women and even children get the safety and security they need to live successful lives. "Rita is an amazing young leader. I have the pleasure of working with her each week when she volunteers with our Early Childhood kids. She approached me about getting involved in a community project and giving back to an organization. We love to be involved in the community and give back to organizations when we can," said Laura Miller, Gerges' supervisor for the project. Gerges has always been such a great help to her church and her community when the project was offered to her she wanted to go to the next level and show it to other young leaders.
Since this project has been done before Gerges had no issue taking it head-on. This year with her being asked to lead the campaign she made it her own. By involving the school, with many students and staff participating, Gerges was able to create a successful campaign. The focus of Gerges' project was on supporting kids and for them to be growing up in a safe and loving environment. "Helping people who are less privileged than me is important because I believe if we have the ability to help we should, it helps us recognize our privilege and it could potentially change someone else's life," said Gerges. For the past couple of weeks, she has placed baby bottles in different classrooms around campus to collect donations for the women and children at Sarah's House. Money is inserted on the tops of these baby bottles. She did not just stop there. On March 20 Gerges gathered volunteers to help organize and clean the Sarah's House facility located in Simi Valley. Seeing our younger generation wanting to make a difference in our community and putting in the effort to do so is inspiring. Gerges has put in the effort and hard work to achieve something worth giving.