Fearless female joins our football family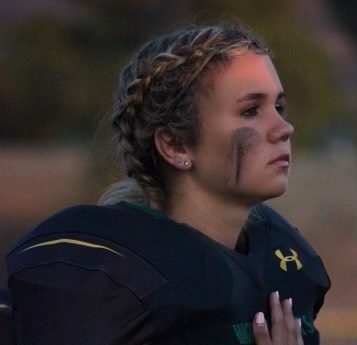 Our school hasn't had a female football player since the 2019 season until now. The newest "recruit" to the team is Morgan Arrasmith who's a multisport athlete. Not only has this junior picked up this new sport, but she also is a star player on our lacrosse and soccer teams. Morgan has always been very athletically gifted and maybe it's due to trying so many different sports from a young age. In her lifetime she has participated in soccer, lacrosse, basketball, volleyball, and even wrestling! In addition to being extremely flexible and cooperative in these sports, she was voted most likely to be an Olympic athlete in eighth grade. The newest sport on her list was football after one of our coaches saw her kicking at a different sports practice.
Morgan has many inspirations and goals while on whatever court, field, or facility she's playing at. She had a few specific inspirations for joining football. When interviewed she said her largest drive for her to join was, "How much it scared me." For her, this fear was a good kind that she wanted to explore further. She also stated, "I knew the reason it scared me was that it was so out of my comfort zone," but Morgan isn't new to being out of her comfort zone, especially when it comes to sports. Her view on trying new things is very simple, "The only way to grow is to do things outside of its [comfort zone]." Overall, Morgan is a very pursuing person and it's been benefiting her for years.
Regarding how often she practices or plays and if she's planning on kicking next year too, Arrasmith said, "I practice every day and play every Friday, just like the guys." Despite her opposing gender from the rest of the team, she's treated just like them. Morgan also said, "As of now I think I will play next year." She didn't realize how much she would like the sport. She added, "I've really fallen in love with the sport and would love to get another season in before I graduate," which is an awesome thing to look forward to for the class of 2024. 
She likes being on the team for multiple reasons but was a little intimidated at first. Morgan was very nervous when first joining the team because "It was super scary to be the only girl." Arrasmith also said, "I felt like an outsider and felt this huge expectation to prove that I deserved to be there," but she slowly started losing that feeling of pressure. At first, "I kind of assumed that all the guys would be really mean, but they made me feel really welcomed and like part of the team." Despite the initial nerves, she said, "I really like the team culture." Due to curiosity about what the culture since most of the students, especially feminine students, miss it unless they participate in the football program, we continued the interview. She described the culture by saying, "Everybody knows how to have a good time, but also when to focus." Additionally, she's discovered a new coaching environment and said, "The coaches are hard on the players which are something I'm not used to, but I like it because the expectations breed success." The nerves she felt for joining fastly diminished once she got to know the people on the team better.
Not only has she learned a lot about this new sport, but has also learned a few other life lessons as well. Morgan stated, "I also like all the new friends I've made with people I wouldn't have considered talking to before." She saw just how easy you can see "all the similarities you can find with others if you put your pride aside and talk to people different than you." She loves new challenges and meeting new people.
Overall, our lady Highlander, Morgan, on the football team is pushing society's boundaries out of the picture. She's a great representative of our school due to her positivity, flexibility, and courage. Hopefully, this is the beginning of a domino effect, so our team has more women representation on it in the future to come!