Choir goes to American idol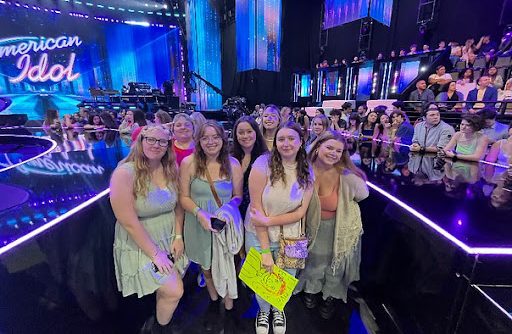 On Sunday, May 7, the choir groups were invited to the live taping of American Idol in downtown Los Angeles. American Idol reached out to assistant principal Mrs. Wendy Mayea and offered us free admission and transportation to the show for our choral department.
It was an all-day event that started at 12 p.m. where everyone met at the Simi Valley Recreation Center to board buses and head to Los Angeles. The ride was long but choir kids know how to keep themselves entertained. Once dropped off in LA the students actually sat on the floor while in line because they were going to be in the front, near the stage standing for six hours.
The judges for this taping were Luke Bryan, Ed Sheeran, and Alanis Morissette.  A pretty diverse group. Singer, Ed Sheeran even sang a song so the students got a free concert as well!
Senior choir student Jillian Jansen said, "My favorite part was being able to see the camera in the background recording us on live T.V."  When asked about the entire experience overall Jansen said, "It was a lot of fun, a little loud, but super cool hearing different voices and styles." Reese Dugar, another sophomore choir student said, "It was a cool experience but I'm so tired." Which is not shocking considering they were standing all day.
After it was all said and done the students didn't leave LA until 7 p.m. A long day to say the least.
Thank you to Mayea for making this trip possible.