Cook around the world experience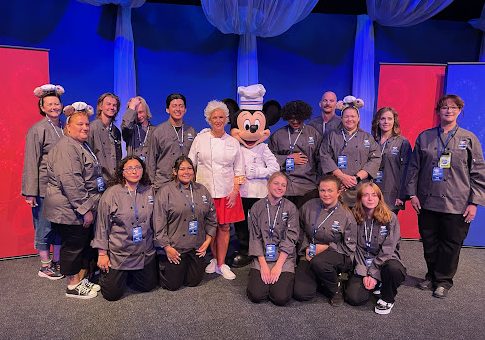 The Foods & Nutrition class teaches you about the culinary arts and covers topics such as how to handle food, storing, cooking, using as ingredients. But, it also has a great field trip you can go on that happens annually, which took place this year from April 21-24, with additional days to enjoy the resort. This Foods & Nutrition field trip is held at the Disney World Resort in Orlando, Florida, where you go have fun as well as take part in a competitive cooking competition with other schools from across the world. The days vary, but it generally happens around spring time and is a four day event, taking place every year. The competition revolves around improv cooking and, this year, was judged by people from the University of Central Florida and Valencia College.
When the highlanders went on this trip, they started by going into the resort to rest for a few hours, then were ready for a great time of fun.  The Disney World Resort served breakfast and had a party where classic Disney characters such as Mickey Mouse, Goofy, Donald Duck, and all the other iconic characters dressed up as chefs, and walked around the dining area. Then, all the magic happened at Disney World and exploring the theme park. The group had great time and were able to go on almost all the rides, even some at Universal as well, all except one of the new Disney rides, Tron. 
Then there was the competition, where schools from all around the world met to compete. Mrs. Carrie Smith, the teacher of the class, has been doing this competition for quite a while now, having participated in it four times. She first learned about it in 2015, and with one of her students, they were able to let her take a trip to the resort to see the facilities. Soon, one of the teachers mentioned to Smith about the "Cook Around The World" (Disney's Culinary Arts program). Smith decided to participate in it with her class the following year. The year after, she went with her class, which were a small group who competed and turned out to be a great learning experience for all. Thereafter, students were much more prepared to compete. 
How the competition works is that there are four continents each of the classes get, which are North America, Europe, Asia, and China, along with a number. Once they get their continent and number, they went to go over to their table and then throughout the next day, they will be called to participate. Then, they will get their ingredients and start cooking different food items to impress the judges. Finally, you'll get your results of how well you do. The class this year received North America and their three ingredients were pork, rice, zucchini, and sage. They went to work and decided to make Sage Rice with Roasted Cuban Zucchini Chips and a Cubano, a ham and cheese variation of a Cuban sandwich, but with some slight tweaks. The students did well, according to Smith, "I didn't know what to expect when we went in the competition, but the students did fairly well, everything was made perfectly."
Then on the last day, they spent the rest of the day at Disney World, just having fun riding rides, and finally all the student chefs packed everything up and headed back to Simi Valley. Smith shared her insight regarding the trip and said, "The trip was perfect, it was a clear sunny day for the whole time we were there, everything went smoothly, we were able to go on every fun ride." If you are interested, then consider signing up for Food & Nutrition. Other than the trip, the class is a really fun way to teach how to take care of food, as well as cook it, and everything else that goes along with it.