Saving lives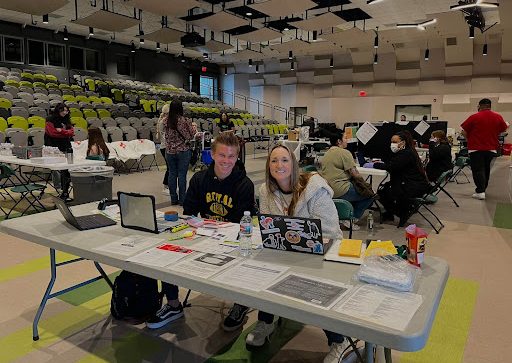 Helping others is a common trend within our school campus. Multiple CSI projects are in the making that are providing others a space to learn and give. Blood drives are essential and can help provide for those in need. Senior Evan Nagy is providing an opportunity to donate and give the ability to save a life with blood donation, as a part of his CSI Project. The American Red Cross Association is one of the main lines for blood donation. According to the Red Cross website, "Every two seconds someone in the U.S. needs blood and or platelets," just one donation could give life to another.
The idea of a blood drive came from Nagy's advisor Mrs. Lev. She encouraged Evan to take on this project knowing it would help save so many lives. Nagy knew that blood is crucial to basic human living and pursued this project with a passion. On April 11, Evan was able to gather 50 donors from students, faculty, and even some outside donors who wanted to help. The donation process was quick and supplied you with everything you needed before and after the donation. "With this project, I hope to inform more people on how easy it is to help those in need by just giving up one hour of your day to donate blood, your blood can help save up to three lives," said Nagy. This project took preparation and help from others. The American Red Cross was able to come out and help Evan collect the blood and provide T- shirts for the donors as well. All of the blood donated will be given to the Red Cross and then to hospitals in need.
Evan was able to gather other donations for snacks and drinks to give to the donors after giving blood. The snacks included cookies, trail mix, and other nutritious bars. "This was my first time giving blood and I do encourage others to give and donate," said senior Larissa Arteaga after donating. Showing up and making the effort to help others is what allows us to make the world a better place. Evan was able to bring people together and help give to those in need.