Screaming and American dreaming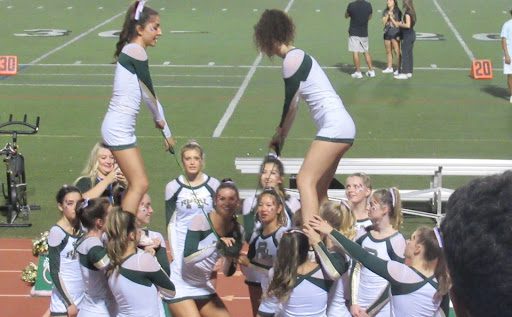 On Friday, September 23, we battled Camarillo at home in a game of football to honor our past and present military forces. Although we lost the game 21 to 47, the energy and spirits were kept high for our heroes. The student section and athletes played a major role in keeping the positive vibe of the game. Acts never seen before by Highlanders were performed within the section as well as on the field. The scholars could be seen waving their American flags in the stands to Carrie Underwood and other various country artists. Additionally, some people sported other important flags such as pride flags, Benjamin Franklin, and more.
The game began with an ROTC march onto the field. They held our countries' flags high as they approached the audience. Members of the program proved their positions with their proper calls and chants. While members of the forces in the audience expressed cheers and gratitude toward their activity. Finally, military-related personnel was asked to raise and be recognized for their service, courage, and respect for our citizens and country. It was a very important role in the night for not only ROTC but American soldiers as well.
The student section defined the words pride and royalty. The Kingdom's hype leaders included seniors Kevin Bautista, Meelad Zarrabi, Bradley Mandell, Zack Mozes, and Jonathan Martinez. They started the game off with a team-style huddle to discuss their goals. The boys then created confidence by reciting cheers, chants, and most importantly their course for the game. A few of our leaders were seen hitting an American-born high school football dance, the Griddy. They were also seen using their megaphone cones to further express their voices. Bautista in particular encouraged student song selections for country music and other stereotypical American songs. Overall, our leaders proved our castle's worth once again.
Our leaders' spirit has started an effect and we are beginning to see underclassmen stepping up in their spirit. One student briefly seen at the start of the game was caught sneaking up the steps in a Quinceanera dress. He decided to make his first appearance in the front by flexing and showing off his beautiful garments. The light pink dress is detailed with a high mesh neckline lined with gemstones. Also, the dress features a corset on the back of the torso and long tulle flowing out toward the bottom. Paired with his gorgeous get-up was a hot pink Hawaiian lei. Further, into the game, he decided to begin performing his choreography. He danced in styles of hip hop, break dancing, acrobatics, and moshing. 
Patriotism was also seen spread across the stands. Students dressed in red, white, and blue or even camouflage attire. Another underclassman wore her Wonder Woman costume appearing as a traditional American icon. For accessories, she paired her outfit with red sunglasses and mini flags. She showed off her moves as well hitting a low Russian-style dance. Two potential future highlanders jumped up on the bleachers to shout out in support as well. The young boys used the megaphone cones in order to speak out. All in all, the bleachers yelled and advocated for our rosters and protectors. The youngster highlanders are going to be perfect hype representatives in years to come.
Band and cheer carried the halftime show for this event. The band performed their first halftime performance of the year! It was organized very nicely and played out perfectly. Band also jumped over to the student section to perform a popular American song, Seven Nation Army, by The White Stripes. The fans went crazy and had even more energy after this melody. To keep it up cheer pulled out a slingshot and began to shoot shirts for Highlander students. Not only was it entertaining, but very impressive. The team had to hold one another up for a long period of time in order for the idea to play out. Senior cheerleader, Ryann Benevides, said, "When they first brought up the idea of slingshotting the T-shirts I got very excited." She also thought, "it would be really fun for the student section to participate in," which was verified after the fact. Benevides knew that it was "a good way for cheer to help our student section stay motivated and have more fun." Hopefully, we get to see more impressive acts in our future on and off the field.
Overall, the game was full of support, love, and pride for our school and most importantly our country. The right half of the stands and on the field have proved time and time again that we are proud of where we come from. Lastly, a big thank all active and past members of any military branch or protective force for our country.