The big screening of Black Panther: Wakanda Forever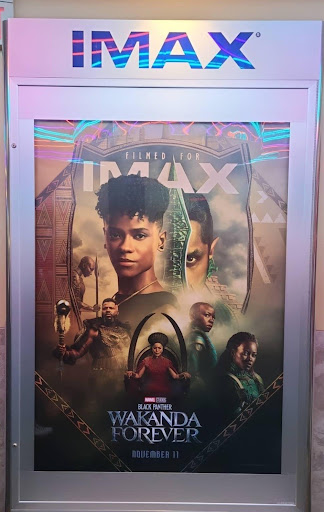 Black Panther: Wakanda Forever, is the sequel to the first popular Marvel Cinematic Universe (MCU) Black Panther movie that was released on November 11 in theaters. The movie is a tribute to Chadwick Boseman, who was the original Black Panther character prior to his passing. This movie takes place further in the future, after the passing of King T'Challa. Which has the rest of the returning cast of characters, facing a new threat that opposes a danger to Wakanda. The movie is only in theaters currently and is planned on releasing online- and on DVD in February 2023. It is a good movie to watch over the weekends with friends and family at any movie theater near you, like the Regal movie theater.
The movie has received an 84% on Rotten Tomatoes and a 94% audience score, with critics saying this is a great point looking forward to the franchise and that it is a great emotional tale to be seen. 
Shuri's mother, Ramonda, seems to have taken the throne after her son's death and sees this threat, which seems to be blue humanoid creatures from the sea with what appears to be their leader, who looks more human and that seems to have supernatural abilities, taking charge. Also, it seems like the military is attacking Wakanda as well, we see this in one of the trailers of the movie where a couple of soldiers attack Wakandan science. On top of that, we see those Blue humanoids have somehow breached Wakanda as well, attacking everything in sight as well, we see the leader of the group flying, looking back on Shuri and Ramonda. From scenes in the trailer, we can safely assume that things didn't go well and many places, including the throne room, have been destroyed.
Though not all hope is lost, as it seems like we have a new Iron person helping out, Iron Heart played by Dominique Thorne seems to have joined in the battle to help Wakanda in their time of need. We get to see there is a new Black Panther as well and all hints point to Shuri taking up the mantle as Black Panther.