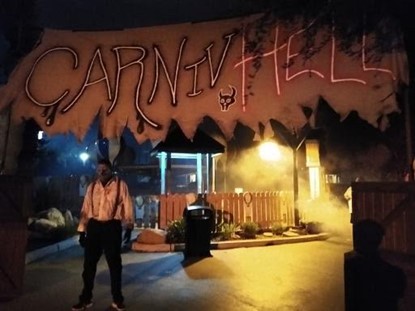 October is the funnest time of the year! We have new treats, events, school themes, horror movies, and amusement parks that love to milk this holiday for all that it is worth. Halloween is the most memorable time of the year because of the many things that come and go, or even permanently stay. The smell of pumpkin spice, freshly cut pumpkins, or even scarily good-tasting treats that every company/amusement park puts out at least once per year. Well, Six Flags Fright Fest fits this very topic thatis going to be shared about!
Fright Fest 2023 has been a long wait for many people, including Horror nights! They have scare actors who run around scaring anyone that they can encounter, mazes that have scary themes, and tasty amusement park food and sweets! It is all so much fun, including if you have family and friends who are willing to test the waters with you.
This year, Six Flags Fright Fest was very unique and very fun! There was an interactive kids section called "Boo Fest" which had the younger audiences play, craft, and interact with the staff and a delightful variety of characters. There was also a trick-or-treating zone called the "Trick O Treat Trail" where staff and characters pass out candy to the young kids who wanted to participate. The most notable character that you can see during the "Boo Fest" would be a giant purple bat wearing a uniquely designed vampire suit. The character's name is "Willoughby the Bat", which is one of the mascots there at "Boo Fest". The kids "Boo Fest" opens as soon as the park opens, and closes at 5:30 pm. 
The park is also decorated in an assortment of themes for Halloween. Six Flags takes pride in its holiday events because the staff really love to interact with the guests. There are eight mazes that all have different themes to them. The list of Mazes includes Saw X, The Conjuring, Condemned House Party, Truth or Dare, Willoughby's Resurrection, Vault 666, Sewer of Souls, and Aftermath Chaos Rising 2. 
As you walk throughout the park, you will also see seven unique scare zones that will surely give you the chills. City Under Siege, which is filled with many clowns. The Devil's Triangle, which is filled with the dead souls of the Blue Sea (pirate theme), Carniv Hell, which is overrun by carnivorous carnies, Exile Hill, which is filled with the dead and the damned, Nightmares- "A Twisted Fantasy", Bedtime stories take a terrifying turn, TERRORtory Twisted, mechanical beasts that relentlessly hunt down their victims, and the Dead Zone, which is filled with cyberpunk zombies that feed on the flesh of trespassers. Junior Dylan Bell said, "Everything was really cool! The City Under Siege was my favorite. The music was very fun to dance and listen to with the scare actors."
Along with those scare zones, there are four types of Monster-tainment, Sliders of the Night, Unleashed, Invasion, and Spirits with Spirits. Sliders of the Night is where the theme park sliders and stilt walkers put on a show for the audience. Unleashed is the start of Fright Fest, where the monsters roam about putting on a show for the audience as they are unleashed from their chambers. Invasion is a new entertainment theme to the park, featuring live DJs, interactive games, and a colony of extraterrestrial creatures that would party and boogie with you. Spirits with Spirits which is a happy hour at the sports bar that gives out holiday-themed drinks, that could haunt you forever.
Fright Fest is also the best for those who love interaction, scare actors love interacting and being with the guests, and of course, the mazes are always so thrilling to experience with all the thrills and chills they may give you. Honestly, this year's Fright Fest 2023 is so much better than last year's with all the effort and consideration that they put into this event. Senior Ian Cervantes said, "By far, one of the best haunts I've been to. The clowns were some of the most entertaining people I've ever seen."