Empowerpuff game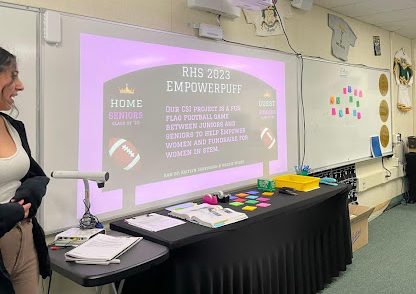 On Friday, April 28, seniors Kaitlyn Sarkissian and Maddie White hosted this year's annual Empowerpuff Game on the Highlander field at 7 p.m.  This year it was part of a CSI project. The game is between juniors and seniors. 
For the senior's team, the coaches were Evan Nagy, Owen Muench, and Carlitos Nunez, who all have a history of playing on our school's varsity football team. The purpose of the game is to help empower women and to fundraise for charity associated with women in stem. Seniors were dressed in black shirts and juniors wore pink. There were 17 players on the senior team and 16 players on the junior team.
When Kaitlyn Sarkissian was asked if she was chosen to host this event she responded with, "Maddie White and I organized this event to promote women in STEM and fund for the Girl's National Collaborative Project, a nonprofit which focuses on promoting STEM education to young girls. Maddie and I both have a huge love for math and science and believe that empowering women in these fields will create a safer and more inclusive technological world, as well as help combat the high drop-out rate for women in these male-dominated fields." Kaitlyn believes that this event was a great opportunity to raise awareness and empower women. "Many women that I've spoken to, such as Mrs. Clark, our CSI Project advisor, have talked about the mistreatment some women in the college experience for being women pursuing a male-dominated career. This event is a great opportunity to raise awareness and empower women. Managing this event has been so much fun. We highly appreciate the help of Mrs. Myszkowski and our coaches, Evan Nagy, Carlitos Nunez, and Owen Muench who have assisted us in making this project a success." The seniors ended up winning the game.