Senior Hug Day celebration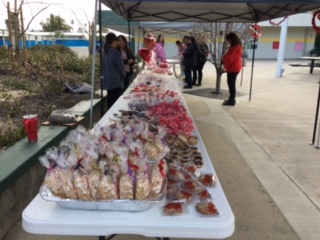 On Tuesday, February 14, was not just Valentine's Day but also Senior Hug Day. Senior Hug Day is a tradition held every year on Valentine's Day. Seniors decorate and bedazzle shirts to say things such as "Hug Me", "Hugs", "Free Hugs."  Freshmen, sophomores, and juniors gave seniors a hug on this special day and showed some love! Tons of delicious baked goods and desserts were given to seniors in the quad to celebrate. This was run and organized by Mrs. Lev, Alex Karten, and the PTSA Group. 2023 Senior Hug Day pins were also available on the table. The designs were made by seniors Heidi Jakobi and Kiara Aguliar. Seniors Larissa Arteaga, Andrea Munoz, Zehong Situ, and Kassandra Salgado helped to assemble the pins, alongside class president Karten.
Thanks to all these people for making everyone's Valentine's Day extra special! Yard supervisor Jen said, "This year, I didn't want to pop a balloon or rip the head off a bear." Any desserts that were not picked up or eaten were dropped off and donated to the local Samaritan Center.