Donda Academy draws to a close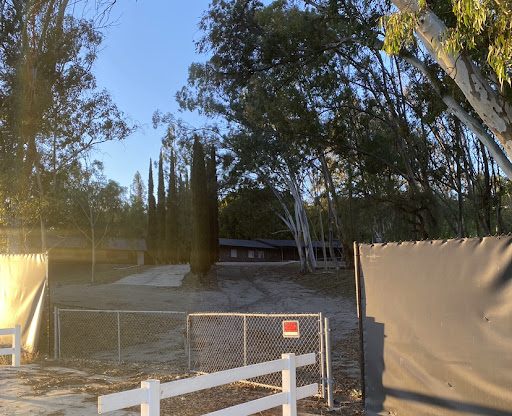 What was Donda Academy? It was an unaccredited Christian private school in Ventura County run by celebrity Kanye (Ye) West. If you are or were a West fan, you know that the campus falls on the outskirts of our town. The address being 1625 Tierra Rejada Road, if you want to drive past and take a look! The building itself can be seen from the street and is painted in all black. The academy was offered to all kids falling anywhere between Pre-Kindergarten to 12th grade. The American rapper founded the school in 2022 in honor of his mother, Donda West. Their mascot and sports team name consisted of a catchy choice of words, the Donda Doves. It was considered an independent school, meaning it's a private school funded by tuition or any other private funds. It cost a total of $15,000 per school year to attend the academy prior to its closing. This may sound like a lot, but in comparison to another private school near us, Oaks Christian, that's only about half of the tuition requested. Now that it has been shut down, parents of past attendees have raised concerns on if they'll receive a refund since the year promised obviously will not be fulfilled. Ye being one of few celebrities, like Will and Jada Smith, to open a school and have it shut down. Finally, the school was well known for having a great basketball team consisting of three of the top 50 recruits for the senior Class of 23'.
Why exactly did such a hyped up, talked about academy like West's Donda Academy, shut down? If you don't follow Kanye West and his bursts of social media rage then you might be confused on why it's not still active. These rampages began getting bad when his ex-wife, Kim Kardashian, moved on by dating Pete Davidson. West voices all his jealousy and anger over her new life and man by poking fun at him on Instagram. He even created a nickname, Skete, and music video, Eazy, to slander him. It seems that ever since Kim filed for a divorce, he has been posting lots of negative, unprogressive posts that even go against his own culture. Whether that's slandering famous models, the Hadids, or even some of his past music friends, Kid Cudi. As if that's not toxic enough, West started to continuously post about White Lives Matter and additional anti-Semitic comments. Senior, Bradley Mandell, stated, "I think Donda shut down because Kanye made multiple politically incorrect and racist statements." Learn more about West's actions through other media sites, as well as news sites. His words consist of harsh bigotry and evident racism that is not tolerated by many fans and public.
Who decided to shut down the campus? Although West founded the school, its Principal, Jason Angell, made the executive decision to shut it down through email. Unfortunately, for the very talented student athletes of the school, they were stripped of many other opportunities and tournaments. 
The days following the media's knowledge of the canceled campus were hectic for those driving down Tierra Rejada for any reason. Luckily, we have an inside scoop on what exactly that mayhem consisted of. Freshman, Priyal Choudhary, visited the street only a few days after the closure and stated, "We just drove by the street and there were news trucks and a couple of policemen on the street making sure no one trespassed." It didn't stop there Choudhary also said, "Also, there was caution tape, honestly it looked like a murder took place." The city of Simi Valley ensured the safety of the campus and respect given towards it despite its closure.