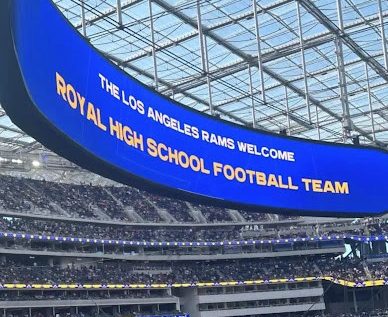 On October 3, Cooper Kupp surprised the football team in the MPR.
Kupp wanted to relive his high school experience that he once had at Davis High School. His high school never had a winning record until Kupp carried his team to their first playoffs in his senior year. Highlanders football has not made the playoffs since 2005. Due to these correlations Cupp wanted to relive his experience at Royal High School.
The football team went to the MPR for a mandatory meeting. To their surprise, Kupp was waiting on stage with cameras surrounding him. Kupp gave a motivating speech to the team before the cameras turned to the players. Every player on the team was alerted that they had to announce their names and positions. Senior Aiden Krause said, "I was a little nervous but the excitement of just being in front of Cooper Kupp overwhelmed the nervousness." To end the meeting Kupp informed that he will be in attendance for the team's film study following the meeting. During film study, Kupp shared a lot of his wisdom that he grasped throughout his career playing football. Meetings ended, and Kupp left but his film team stayed to record the rest of the practice.
A few weeks later, the football team was in meetings when Kupps's camera crew walked in the room. They made an announcement that Kupp was inviting the football team to attend the Rams versus Cardinals game on October 15. The team was jumping in excitement and throwing their chairs around as the camera crew filmed our reaction. Senior Sean Sandwick said, "I was super shocked. I felt like it was a super cool gesture. It wasn't until I got to the stadium until I felt the whole surreal feeling."