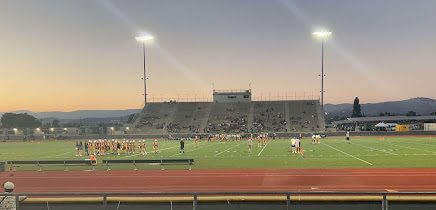 Congratulations to Girls Flag Football who won their rival game against Simi High on Thursday, August 27! The girls defeated their opponent 30-0 in last week's home game at our football field. Girls Flag Football is our newest sport which has created quite the fan base. 
Thursday night, the stands were full of enthusiastic students, proud parents, and intrigued teachers. Girls Flag Football player, Taryn Boian said, "I saw so many teachers, so many parents of some kids who have even graduated and gone to college to come watch the game because they were excited to see something new." All over California, Girls Flag Football teams have been popping up as CIF made the sport official starting the fall of 2023. Schools including Moorpark, Oak Park, and Camarillo have all started up teams to compete. 
Similar to traditional American football, Girls Flag Football is a modified version that focuses on skill and strategy. There are fewer players on the field who work together to move the ball down the field and remove the flags of their opponents. As a sport predominantly overpowered by boys, this new opportunity allows females to feel a new sense of community and empowerment. Female athletes are able to build strong connections with their teammates and coaches as they work together to correctly execute the game. Leah Orsini, senior believes that, "Chemistry is so important in building a strong team and we all strive to make each other better and to cheer each other on every single day at practice or games." This new sport is such a great opportunity for female athletes who want to show off their skills and make a special bond with their team!