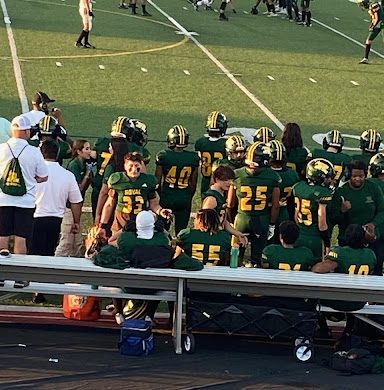 The game's tone was set early on with the initial coin toss going to the opponent's favor. It forced inexperienced quarterback, junior Creighton Ae to step on the field, "Nothing is different for me because I have been playing football for 10 years. It's just another game for me," said Ae.
Early mistakes from the young offense for the highlanders forced them to punt the ball. Instantly, the defense couldn't respond to the offense of the opponents. But, they made the opponents have to work all the way down the field. On multiple third downs the Highlanders defense couldn not have held up which caused a touchdown on the first possession. On top of the highlanders struggles on offense the special teams were not clicking. The opponents got two touchdowns on the Highlanders special teams throughout the game. 
The Highlanders found themselves down multiple touchdowns at halftime. Senior linebacker Aiden Krause tried to rally the team together at half and said, "The energy was down throughout the game. So during half I approached all my teammates and encouraged them to fight back and respond to the opponents."
But the motivation did not resonate with the team as the Highlanders continued the mistakes throughout the game. The Highlanders found themselves in a 60-0 deficit to end the game. Fans in the stands remained very supportive of the team and are looking forward to the next game.