GSA shares information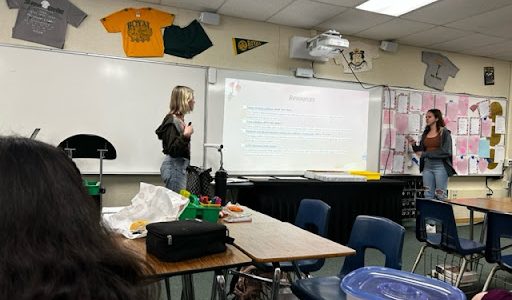 Last Tuesday, February 14, The Gay Straight Awareness Club (GSA) meeting was held during lunch in room 6-21.
The club is hosted by president Lola Forbes-Black and co-president Jenieve Clark who share statistics and tips on LGBTQ+ teens' mental health. 45% of suicide rates among teens are LGBTQ+, The Trevor project estimates more than 1.8 million LGBTQ youth consider suicide every year and at least one attempt every 45 seconds. Bullying is another issue, 36% of LGBTQ youth reported that they have been physically threatened or harmed, and those who did attempt suicide at nearly triple the rate of those who did not in the past year.
Along with suicide rates, many teens are uninformed about HIV and AIDS in the community. Why? Clark said, "Lack of training and funding when it comes to HIV and AIDS. LGBTQ are less likely, to be honest about their issues out of fear." It's true, and it's something that needs to be normalized.
Forbes-Black gave some everyday tips to help one's mental health, she said, "Meditation, daily affirmations, time to yourself, eight hours of sleep, drinking lots of water, and eating right can help your mind." The club wants to spread the idea that it's important to take care of yourself and ask for help when you need it, there are so many people who can help.
Please reach out if you or anyone you know is dealing with suicidal thoughts or tendencies and/or had questions about HIV and AIDS.
Links to hotlines and other resources will are provided below.
Suicide Hotlines:
Suicide prevention hotline – 800-273-8255
CA Youth crisis line – 800-843-5200
Crisis text line – Text Home to 741741
Resources:
The Trevor Project https://www.thetrevorproject.org/resources/article/facts-about-lgbtq-youth-suicide/
LA LGBT Center https://lalgbtcenter.org/