The Bringers of Noise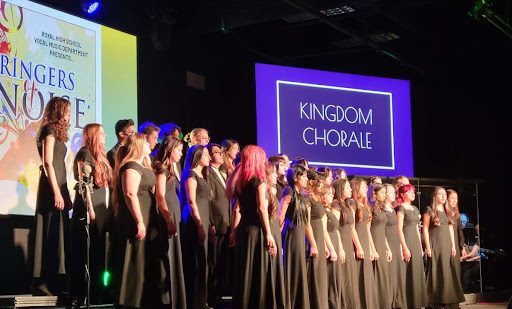 On March 8 the 2023 spring choir concert "The Bringers of Noise" was held at the Real Life Church. Another performance from the choral department showcased more complex pieces that really contrast with the music performed earlier in the school year. These pieces were hand-picked by the choral director Ms. Spielman with the help of her two student conductors Jillian Riddle-Jansen and Joy Oh.
The concert started off with a bang as Kingdom Chorale; the beginning choir presented "The Bringers of Noise." This performance was very mysterious and enticing with staging, movements, and flag motions the program has never done before at a spring concert. After the concert, when reflecting on their pieces, Ms. Spielman said, "You guys [referring to Kingdom Chorale] actually scared me with Bringers of the Noise, I was so focused on the taiko drum so I didn't realize you started getting louder and it was really impressive." This group performed two other pieces, Omnia Sol, and Everything that hath breath before ending their set.
The next group was Highland Harmonics; the advanced women's group that performed powerful pieces such as Panta Rhei, another song with staging, movements, and a set of sticks. Along with songs by Ikan Kekek and When the Earth Stands Still. These powerful women had a lot to do and executed it well. This concert fan-favorite VoiceMale performed a Justin Bieber Medley that included Justin Bieber's "Baby" with choral student and VoiceMale member Mark Florian who said, "I think that was the best song VoiceMale has ever done." The crowd loved it. Throughout the night there were other various soloists and duets, before the final group Reigncheck. Reigncheck; the vocal jazz group, performed amazing difficult tunes such as Words, Nature Boy, and Lady is good. These standards had solos by Indie Grubb, Joy Oh, Ethan Pulispher, Sean Rose, and Cody Weber. And with that, the concert came to a close.
It's not over yet though! Join the choral department on May 17 for the end-of-the-year concert "Finale"!