Our new Highlander has arrived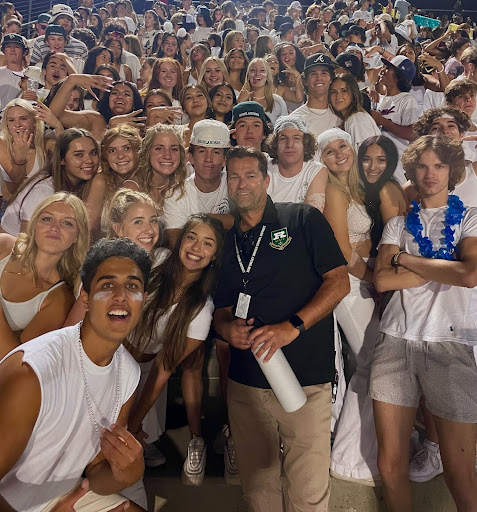 It's the "Start of Something New" for our new principal, Mr. Micheal Hall. Hall has been working in our district for over 14 years. He was an assistant principal for three years at Hillside Middle School, three years as principal at Madera Elementary School, and eight years as principal at Valley View Middle School. He wanted to become a principal to have an impact on more students' lives. Hall said, "I really enjoyed being a teacher but found that I could connect with more students as an administrator. I also thought that I could have more of an impact on a school from the principalship. I wasn't really searching to be a high school principal but the opportunity became available and the challenge was exciting. I am incredibly lucky to be at Royal High School."
One of his greatest accomplishments, besides becoming the principal of Royal, is earning the Golden Ribbon Award at Valley View, one of his best achievements in education. Hall attended CSUN, (California State University in Northridge) where he earned his master's and bachelor's degree. He did not attend Royal as a student, unlike many of the current staff members. Instead, he attended Canoga Park High School. His plans for the year are to get a feel for the school, learn how everything runs, get to know the students and make a connection with the students. Hall chose Royal because he heard amazing things about this school and its staff, he believed that he couldn't find a better place.
So far he has created great communication with students, helping them shine. Hall describes himself as consistent, connected, and compassionate. Through his compassion, he wants to help students be actively involved in their environment, to find their place at the school where they feel most comfortable and safe. When asked about what advice he would give seniors, Hall said, "Find your passion and discover it. Money is what it is, you need it to survive but find your passion. If the passion comes with money then all the better." 
Some fun facts about our new principal include, his favorite TV Show, The Office, and Jim Halpert is his favorite character. Outside of school he enjoys playing hockey, one of his favorite teams is the LA Kings. He also enjoys going to the beach, the movies, and spending time with his family. The changes he is making are evident, and school seems to be in the good hands of Hall, and we can't wait to see what happens next.