What is dual enrollment?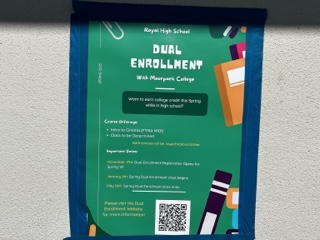 Starting this past November, students were given the opportunity to register for dual enrollment at Moorpark College. Some may be asking "What is dual enrollment" Dual enrollment is an opportunity Moorpark College is offering students the opportunity to take other classes not usually offered at the school, and receive high school and college credit for them. 
Dual enrollment at Moorpark College is for K12 students who wish to take college classes in addition to their regular course load. Senior Danielle De Leon took sociology her sophomore year during the lockdown and said, "Although it was hard to stay motivated during the lockdown, I think dual enrollment is a great opportunity for students wanting more credits for college." Along with that tuition is free for high school students, however, you must purchase their own textbooks if needed for the class. Registration begins for Spring 2023: on November 17, and then classes start in the Spring semester of 2023, on January 6.
Currently, Moorpark College is specifically offering our students an Introduction to Cinema course. This class introduces the art of film and builds an appreciation for the art form, and cultivates critical thinking about film. It includes topics such as a brief history of the movies, modes of production, form, style, genre etc. This class has credits that can transfer to CSU and UC schools. At the moment the other class is to be determined, so stay alert the other class should be presented on the announcement and website as soon as decided. For any more questions or information, email your counselor.
Do you want to get a head start on college credit? Royal High School students enroll now:
https://docs.google.com/forms/d/1Gu6U8aK13yritkPNLE02ysjIVLATVY8PoMkuqPC-kNs/viewform?ts=63517631&edit_requested=true