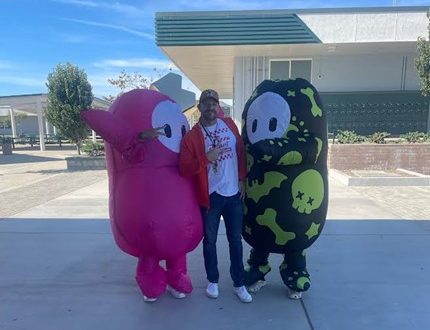 Halloween is a holiday celebrated for so many years now by all on October 31. Halloween fell on Tuesday this year, with no school on the following day. The students on this Halloween, as for every Halloween, are allowed to wear their costumes at school except for a couple of minor dress code rules as for no face paint, no masks, no fake or prop weapons, all costumes must meet regular dress code and last but not least costumes must not conceal a students identity. As for things students had to avoid were replicas of any weapons, costumes that showed cultural groups in a joking or stereotypical manner, changing your skin tone to hate of another race, costumes that are overly politically offensive, religious costumes that mock or belittle someone's deeply held beliefs and costumes that promote violence, sexual activity, drug/alcohol use.
Who dressed up for Halloween? Well first stop to our main office, Administration Assistant Melissa Diederich said, "The main office is all dressed up as The League Of Our Own, Mr. Hall is the coach from the movie and the secretary and assistants are the baseball players, and I'm their chaperone." Why did the office dress as the movie "The League Of Our Own?" Well, Adminstaration Assistant Melissa Diederich said, "Because Mr. Hall has a strong love for baseball."
Now onto the Quad area, what did the campus supervisors dress up as? Campus Supervisor Janet DeMarco said, "Me and all the rest of the campus supervisors are "Yard Dogs", supervising and protecting you guys." What a perfect costume for all the Campus Supervisors to wear since they are such loyal, protecting and respectful people.
Now the teachers, what did some teachers dress up as? Teacher Carrie Smith said, "I'm Professor McGonnigal from Harry Potter because I love her in all the books she's in and her character in the series." Teacher Daniel Maye said, "Ron Burgundy from anchorman channel 4 San Diego, because every year I have to use this purple jacket for different characters." what awesome well throughout costumes.
Now for our students, what did they dress up as? Senior Rize Eastburn said, "A clown because it was a last minute costume and it was fun to do for my everyday school makeup." Junior Allison Fleming said, "I am the scarecrow from The Wizard Of Oz and it's a group costume with my other friends." What plans do the students have since we have the next day off and what do the students feel about a day off after Halloween finally? Sophomore Priyal Choudhary said, "I'm gonna go party with my friends and trick or treating, and I'm happy we have the day off tomorrow because the fun can last longer tonight." Senior Alex Saribekyan said, "I am just gonna go to a party with my friends, I'm glad we have the day off because it's a good idea that they did that so we can stay out late." A lot of other students agreed with the fact of being able to stay out longer and sleep in the next day. Thank you Simi Valley Unifed School District for finally giving students the day off the next day!
Are you going out to trick or treat? Senior GiAnne Banuelos said, "Yes, I still trick or treat with my little cousins. I think it's a fun family activity for all ages." Teacher Aide Cheryl Norman said, "I only enjoy handing out candy to all the sweet little children in their unique costumes." If going trick or treating, where are the best places to go? Senior Alvin Corpeno said, "Rich areas in town or any town, that's where you can find the biggest candy bars." Teacher Alfred Pratt said, "Moorpark, I've always gone with my three daughters." How spooky, you really felt the Royal Halloween spirit this year. There were many creative costumes seen around campus.