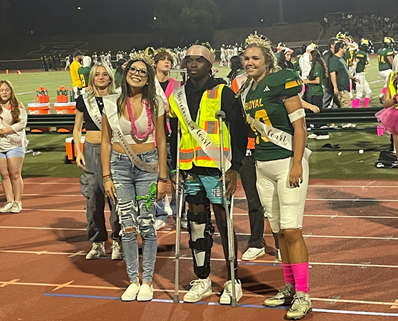 Two magical days so far this school year, the homecoming dance and our homecoming court. On Friday, October 6, at the homecoming football game during halftime the homecoming court was brought onto the field. The nominees for freshmen were Avery Hodge, Camelia Nicewonger and Emerson Hahn. For sophomores Ashley Heath, Caitlyn Schrader and Jett Rossell. For juniors Allison Fleming, Rabecca Turabaz and Samuel Gardiner. Last but not least our seniors Cecilia Almada, Hailey Dunn, Leah Orsini, Manny Grewai, Morgan Arrasmith and Kunle Ande.
The winner of the homecoming court for the freshmen class was Avery Hodge. For the sophomore class Jett Rosell won. Finally for the senior class Cecilia Almada, Kunle Ande, and Morgan Arrasmith won. "I feel like I wouldn't have changed it for the world being my last year, I think that this was an awesome opportunity and it's something that will forever live in my heart."  said senior winner Cecilia Almada, when asked about how she felt to be one of the winners for the senior class. 
After the day of the homecoming football game and finding out the homecoming court winners at halftime, on October 7 at 7:00 p.m. the homecoming dance had began and lots of students paraded around the quad area and all rallied around the DJ playing all kinds of variations of music. The students enjoyed the homecoming dance this year with all the music and dancing!  "It was pretty good," senior Alvin Corpeno.
Unlike last year when the homecoming dance was in the stadium, a change was made this year with it being in the quad area. How did the students feel about this change? Alvin Copereno said, "I liked it more in the quad,"  When asked about the movement of the dance, senior Kendall Diederich said,"I thought it would be better on the football field, but I did not hate it."  The students all had mixed feelings about where the new placement of the homecoming dance was but that did not stop them from having a great time. Senior Jose Varagas said, "It was really fun because I was in the pit so I was having a fun time."  The homecoming court and dance both had lots of anticipation, excitement and nervousness but it was all well worth it and lots of students had an amazing time. What a night to remember!