Last rally for the Class of 2023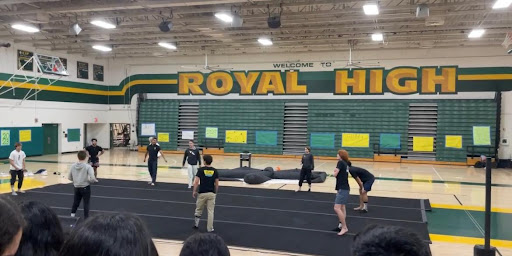 On Friday, May 19, seniors during the fourth period gathered in the gym to celebrate prom with our last-ever rally. Ms. Patricia Myskowski presented awards to seniors who showed excellency in the different subject areas of English, Social Science, Math, and Science along with our ASB, class council, and leadership receiving their chords. There was also a special award given for outstanding excellence in electives, such as the Cafe and Journalism.
Seniors' favorite part of the rally was the slideshow presentation of our favorite memories. Photos were submitted through a Google form that was sent out via email to seniors prior to the rally. The presentation featured some of our favorite memories from Grad Nite, our rivalry football game, promposals, and other senior favorite events. Senior Matthew Balderes during the presentation said, "Even though I'm going to miss everyone and love this memory lane moment we're having, I can't wait for it to be over already."
After the slideshow presentation, Myskowski gathered John Thomas (JT), Trevor Watkins, Bradley Mandell, Ireland Donnelly, Christian Rodriguez, and Nick Madrigal, and recruited some others from the wrestling team to play a game on the floor where the goal was to be the last one standing with their one sock on, taking off the other seniors sock in a wrestling match within the time limit set by Myskowski. When the seniors went to the final elimination senior Genaro De Leon commented, "This is oddly entertaining, it's like a train wreck you can't look away from." The winners, Donnelly and Thomas won extra graduation tickets.