Be our guest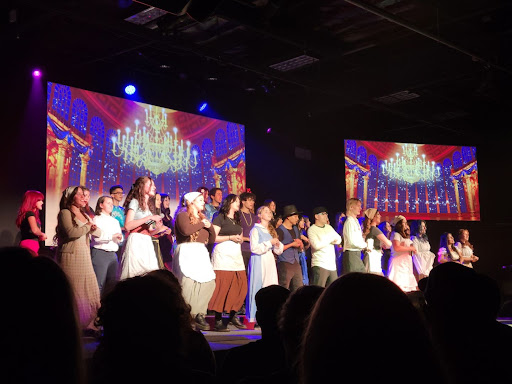 On Wednesday, May 17, our choral department performed their final performance of the year. The last performance, or "Finale" this year was Disney-themed, so all the music and outfits were inspired by Disney movies and characters. This is always such a special event for the seniors in the program since it's their last show. Before the show, the entire department sat on stage and had circle time. This was a moment for seniors to speak about their time and give advice to the newer students. It was a sad and private moment for the group, but it got it riled up for a great performance. 
The show had so much passion behind it. Students began choreographing dances months ahead of time, costumes were being decided, music was decided, and Ms. Spielman worked so hard to make this show possible. Famous Disney songs like "Friend like me", "Be our guest" were performed by our beginning choir; Kingdom Chorale and  "Part of your world" was performed by the advanced women's group: Highland Harmonics. There was even an adult choir showcasing staff members and choral student parents that also have a love for singing. They got their own moment to reminisce as they performed a Lion King medley. Reigncheck; our jazz group presented popular songs "Into the Unknown", and  "Prince Ali."
Soloist senior Genaro De Leon said he was pretty nervous to go on despite having had many solos in the past. "I'm worried I'm going to mess it up because the chorus is the same twice but it changes later but only slightly." Although he ended up doing a great job performing "Dos Orugiatas" Another soloist senior Isabel Martinez had a ton on her plate that night, she was in all three choirs and had a solo. She performed "Beauty and the Beast" When asked about how she felt Martinez said, "It was a lot, having maybe one song to change. But it worked out and now I wanna go home and sleep." Joy Oh; another senior, had performed "I won't say I'm in Love" with her friends as the muses, it ended up being a fan favorite as the crowd went wild.
The night ended with a mass number, the department came together and performed the High school musical's "High School Musical." A perfect way to end the night and a way to honor the seniors as they are sent off into adulthood. Class of 2023 signing out.