Marines challenge students to pull up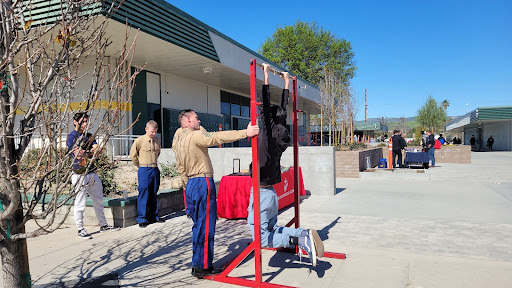 In the new space between the library and the six/seven buildings last Wednesday, February 15, the US Marines, Navy, and Air Force had representatives visit campus to inform students of the benefits of fighting for our country. The Marines, Navy, and Air Force all offer 100% of education expenses covered through federal programs such as Tuition Assistance, the Montgomery GI Bill, the Marine Corps College Fund, and more!
Each branch also has its own community college system such as the Community College of the Air Force (CCAF) along with on-the-job training and experience that can directly translate to college credit making money and credits at the same time makes serving one's country an excellent option for those who want to attend college but can't afford the expensive sticker prices of universities.
US Marine Corporal Johnson told students during his campus visit, "I joined the Marines right out of high school because it was the most affordable option for my family and after becoming corporal and working my way up the chain I have no regrets."
Senior Sean Nelson after perusing the booths and pamphlets said, "I knew enlisting could get you discounts for college but I had no idea training alone could count for credits, definitely makes serving your country a more appealing option if you get entirely free tuition and special programs." When those around him encouraged him to try the pull-up bar the Marines had brought out to challenge our students he complained, "But I have a wrist injury!" and then proceeded to do 11 pull-ups with ease.