Choir and band room makeover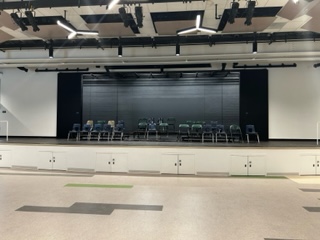 With all the construction happening on campus, the choir and band rooms are getting a makeover. Since 2020 choir and band students have had to use portables for their classes, and now they are getting the first real look at their brand performance space.
The MPR (Multi Purpose Room) has been in construction for years now; the choir department has had to rent out churches across Simi Valley to hold the shows. Although those shows have been delightful experiences, the students have never been able to use their own space. Senior and choir president Danielle De Leon said, "It's exciting to have a new space, I'm just sad I won't be here to use it. I will definitely be coming back to see next year's performances on the new stage." Many other senior choir students are sad they won't be able to use the space, but cannot wait to come back and see it next year.
Senior and student conductor Jillian Riddle-Jansen said, "I believe the new MPR is amazing, we finally have a stage for ourselves and our audience that is updated enough to hold any and all concerts, while also letting us depend on it instead of worrying about if we can be accepted and perform at other places outside of school." Not only will it be easier for the students, but it will also be easier for the audience members to find their way to the MPR because it's such a familiar place, rather than a church they've never been to before.