Westmont College Choral Festival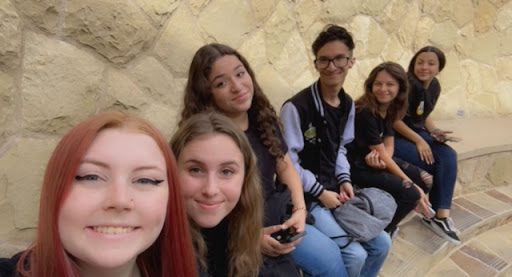 Last Friday, October 28, the Kingdom Chorale was invited to join Westmont College in their choral festival along with other choirs such as San Marcos High School and Bakersfield High School. Upon arriving at the college [in Santa Barbra] around 1 p.m. students attended a clinic hosted by the choral department director Dr. Daniel Gee.
One by one choir performed a piece from their repertoire, then Dr. Gee would give some professional tips and tricks on how they can improve. Kingdom Chorale performed The Lake and Ahrirang, both pieces were also performed at the choir concert last Wednesday. 
Senior Danielle De Leon has been in the program all four years of high school and is the choir president for this year. She said, "It was really nice to leave Simi, the college was beautiful and try something a little more challenging. I think it was an experience that the choir needed." 
At the end of the day, all the choirs were invited to perform with Westmont College at their choral festival. The choirs performed one of the pieces they had brought to the clinic, then at the end of the concert, everyone sang a German piece directed by Dr.Gee.