Flashing lights for the Homecoming Rally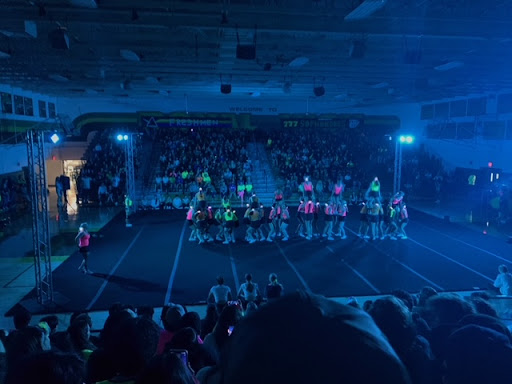 On Friday, September 30, students and teachers were invited to the 2022 Glow Homecoming Rally in the gym. The rally was hosted by seniors Maddie White, Bella Grech, Kevin Bautista, and Meelad Zarrabi. The rally had wonderful performances from the cheer and dance teams, Reign Check (Jazz Choir), ROTC, and the Homecoming court nominees. The gym was decorated in glow-in-the-park paint, and speakers, and had fire sparklers to introduce the homecoming nominees. Each section was separated by grade level and had a representative for that grade in each game. Behind each grade level was a poster to represent them. Additionally, to break up the capacity of the gym there were two rallies. 
The rally incorporated two games. The first consisted of partner balloon popping. One partner would stay still while the other one would take a balloon and try to pop it between their chests, then another balloon by sitting on their partner's lap, and finally one more balloon by laying on top of their partner. Seniors, Maddox Montolfo and Rider Gordon won. The second game included wrapping the class representatives up in saran wrap, running around the gym mat,  then ripping the saran wrap off. Senior Andrea Munoz and her group won this game.
White was both a host and is the cheerleader captain. When asked what it was like setting up for the rally she said, "Hosting the rally was one of the most exhilarating feelings. The feeling did not compare to a cheer performance during halftime or a routine. Although I had a full plate I was not going to pass up the opportunity to lead the rally and also perform in it." 
White not only hosted but performed in the rally. When asked what it was like she said, "Setting up for the rally was stressful because the leadership class was trying to be as prepared as we possibly could with the limited time we had. The only thing we couldn't grasp was that you can never fully prepare for a rally, especially since this was the first fully executed rally in years." Thanks to the leadership's hard work, the rally was amazing.