A touchdown away from homecoming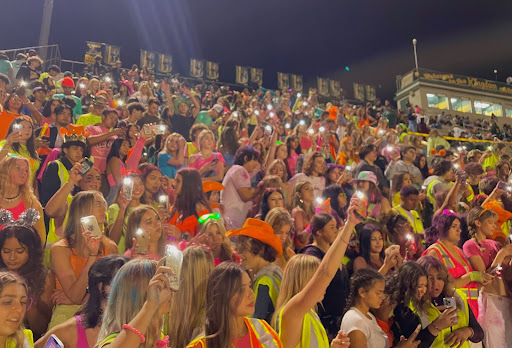 This year's homecoming football game was a blast! It took place at the Royal stadium on Friday, September 30. It started from 4 p.m. to 10 p.m. against Thousand Oaks High School. The theme of this game was neon/glow. Students went all out to show their school spirit by wearing neon work vests, tutus, leg warmers, glow sticks, cowboy hats, arm sleeves, light-up glasses, and even… banana costumes?
During the game, the student section came up with many cool ways to make the game more interesting and spice things up. Seniors Kevin Bautista and Meelad Zarrabi threw cheerleader Bella Grech into the air and caught her perfectly! Then, the student section was separated down the middle into four groups. Each group of students was given different colors of blue, pink, purple, and red powder. Some people had confetti too, which was thrown into the air to create a cloud of different colors. Senior Dalilah Recinos said, "I looked like a purple minion!" In addition, senior Fryda Salguero said, "For being a senior, I've never seen that done before, so it was a cool experience."
Delicious donuts, coffee, and other drinks were available to buy from Krispy Kreme and Makenna's Koffee. The homecoming royalties were chosen, and each person was given a crown to celebrate being voted into the court. Winners include freshman class, Zeina Sawalha. For the sophomore class, Reese Dugar. For the junior class, Hillary Moran Diaz. Lastly, the winners for the senior class were, Martha Rodriguez, Maddie White, and Issac Zachariah. The final score of the games was 6-47. Even though we did not take home the win, it was still extremely fun to be there!