Varsity rallies for their Golden Valley win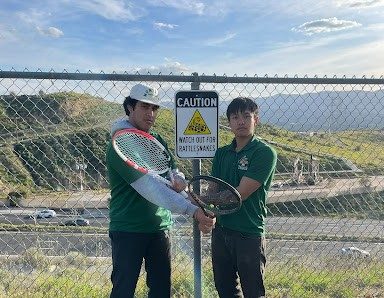 Our Boy varsity tennis team is midseason with 4 wins and 2 losses total. They played a home match on March 2 against Oak Park High School. On March 8 they played again at Golden Valley High School. This was their 6th game. Last year, the team got pretty close to the CIF finals, losing the division 3 semifinals at a crushingly close match. This season the players are hoping for the wins to reward them with the opportunity for another chance to get there once again. "I highly believe Royal will make it to CIF because our team this year is very hard working and we are hungry for the title," senior Jayden Baltazar said. 
The CIF stands for the California Interscholastic Federation, they manage statewide sports competitions. When playing tennis, there are singles and doubles. There are typically eleven players made up of three single players and eight doubles players. "I am confident that our team will be able to make a CIF run again this year because we have a strong singles lineup and a solid doubles lineup," said senior Christopher Sett. 
After playing the Oak Park match the results were 7-11 with a loss for Royal. "My performance could have been way better. My doubles partner Jayden did his best to keep us afloat but in the end, we all have bad days or off days," Sett said. They came back strong with the Golden Valley game, those results were 17-1 with an immense victory for Royal "I was shaky at the start but after the first set I picked it up," said Baltazar.