Lacrosse in action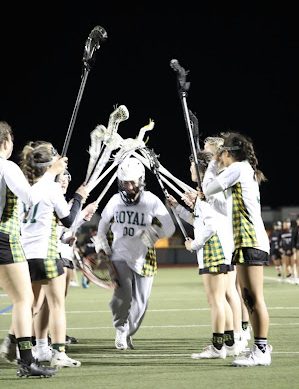 Our girls lacrosse team has been busy practicing for a great upcoming season. The first game of the season was on February 15. The girls won their first game of the season against Village Christian High School with Varsity winning 13 to 4.
Their first home game was Friday, February 17, against Downey High School, with Varsity winning 20 to 8 and JV lost 4 to 7. Seniors Harmony Hall, Katie Guardado, Haylee Wise, Hayden Kelly, are this year's varsity team captains. At the girls most recent game varsity won with a final score of 18 to 5 against Cate High School. JV also had an excellent game a close score of  5 to 4 against Cate High School. Varsity has a winning streak this year and are looking forward to a great season.  Many girls on the team are excited to finally be playing games. Junior Makenna Mellinger said, "I'm very excited for the new season!" 
The next upcoming game is February 23 against Westlake High School and March 1 against Oaks Christian High School.  The senior night's game is planned to be on April 27. Come out and support your team!