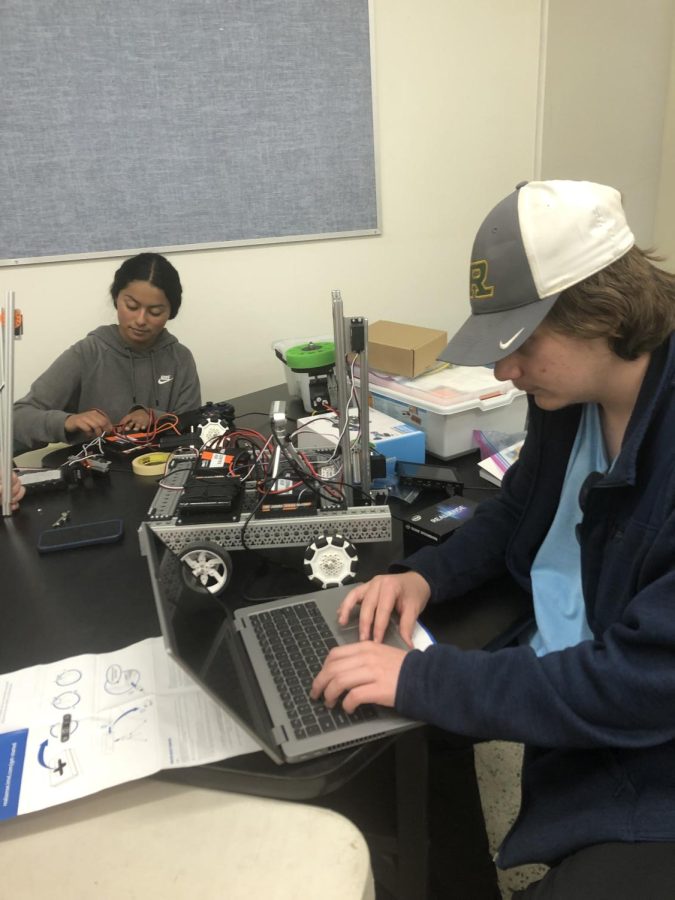 Jack Kirkpatrick
Though it was the first year for the robotics class, it went extremely well for them. They went to a competition out in Ventura where there were four stages overall. The robotics team did very well in the first stage of the competition coming in second place.
At the end of the competition, they finished in the top half, beating schools that had been going to competitions for a while. At the competition, robots are expected to be able to move around and pick up different objects.
One of Mrs. Clark's, the robotics teacher, goals is to build up the skills of students and see if they can make their robots even better. She also wants to try to place better in the competition. The main goal, however, is to be able to move onto the finals where they will face some incredible teams.
Mrs. Clark says they are in desperate need of mecanum wheels which will help move the robot in any direction it wants. Hopefully, they get it after some fundraising. This year they did a ton of fundraisers such as restaurant fundraisers and Trunk or Treat. They were able to get some grants from companies like AeroJet and the Department of Defense.
The robotics team was able to make a pretty good robot at the beginning of the year, but they decided to scrap it and completely rebuild it, making it even better than before. Another thing Mrs. Clark wants to do is get a fully functioning arm so the robot can then pick up items, hold them for however long is needed, then place them down anywhere.
Doing so will help tremendously in the competitions and help them get into the LA Finals. Junior Kevin Kopcinski said, "I can't wait for next year. Hopefully, we are able to earn some more money so we can buy some mecanum wheels for the robot." Overall it was an extremely successful year for robotics, they were able to do surprisingly well for their first time at the Ventura competition and are very hopeful for next year.