Athletics translate to academics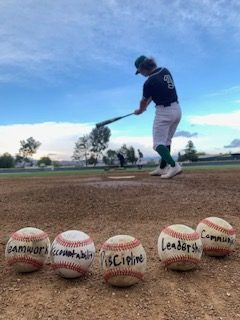 Sports play a big role in our world today for many reasons. Athletes have the opportunity to play sports up until they get college. Playing sports teaches you life skills that are beneficial for athletes in the future.
No matter what sport an athlete participates in, whether it is baseball, cross country, football, softball, and so on, there are certain skills and attributes that they teach student athletes. Some of the skills include time management, leadership, organization, communication skills, how to deal with failure, and many more that are equally important as the ones listed above.
The two main skills that are going to play a key role in helping a student athlete be successful in the future are teamwork and accountability. AP and IB U.S. History teacher, Freshman football, and baseball head coach Emmett Furlong said, "I think the skills that are most beneficial for student athletes would be teamwork and accountability. When it comes to teamwork, an athlete is going to be put into different situations with teammates who have diverse backgrounds and opinions."
Communication with your peers is important because it helps set up relationships with others and it tends to boost productivity with others. "I believe that that being able to communicate and work with people that have a different set of beliefs and perspectives are going to be great for a person's growth," Furlong said.
Having self-discipline is another key skill that will help a student athlete in being successful. "Discipline and accountability are two things that I stress and believe are the two skills that will carry a person pretty far in life," said Furlong. When a person can come up with a set of goals and have the discipline to be able to accomplish them, whether it is overtime or in a short period of time, it shows how committed they are to themselves and their future. Furlong said, "Being able to stay focused and determined on a set goal or plan along with remaining accountable to your teammates is incredibly important. Being dependable and responsible as a teammate will carry over to school and eventually when a person is looking for an occupation."
Adding to the conversation, junior and varsity baseball player Andrew Hall stated, "If you can't manage your time while balancing school and baseball then you won't be able to be successful. The same thing applies for work ethic."
For student athletes to be able to perform at a high level and keep their grades up in the classroom is impeccable. Student athletes, it does not matter what age or level of education, face time management. This is a huge part of being an athlete and still being in school. "Playing a sport requires you to work hard and keep your GPA up. It also teaches you to work hard in class and on the field," Hall said. Athletes take the mentality that they have when they compete in their sport and translate it into their schoolwork, thus making athletes better.