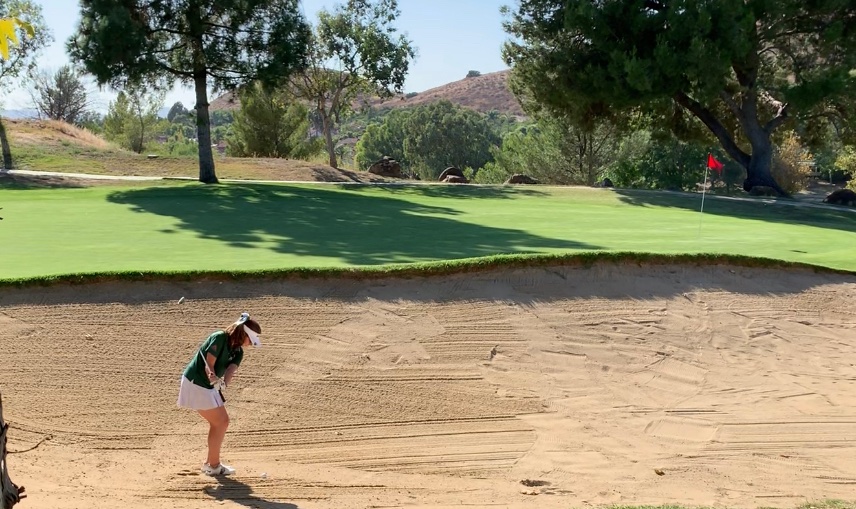 Daniella Decker
With COVID 19 rates slowing down, high school sports have started up. Almost every sport at Royal High has started practicing, and athletes are anxiously awaiting game days. Girl's golf is one of those teams. After competing in league finals and getting to play on exclusive golf courses like Sandpiper in Santa Barbara last season, the team is eager to get back to the game. "I'm so excited to get to play with this year's seniors one last time," said junior, Amber Robinson. "I was starting to think we wouldn't have a season at all. I'm thankful I finally get to get out there with my teammates and coaches."
The team did at-home yoga and went through "carpet putting", a drill using artificial grass or the carpet in your home to practice putting. You can do this drill from the safety of your own home inside. They did these drills every week during quarantine since they weren't able to get out on the course. After doing occasional "Golf Club Meetings" on Zoom with Coach Letus and the team as well, they're finally getting back out there. Junior Sarah Aliolli explains, "it was pretty hard for me to practice and train during the quarantine. My parents were pretty strict about me going places so I couldn't go to the driving range or play on-course. It was frustrating." This was the case for most of the girls. "The season started so abruptly. It feels like we went from nothing to a whole season planned out within a month but I'm glad we're back in action," said Aliolli.
So what are matches going to look like? Three words: sanitizer, masks, and distancing. "All of the team will be taking COVID precautions this season. Thankfully, golf is a pretty socially distanced sport as is, so it won't be very different than previous seasons," said Senior and Golf Club President, Madi Decker. "The only thing that will be different is we all will be wearing masks and avoiding team huddles and high fives. We're probably the safest sport since we have no necessary physical contact." The golf season is all set up for 2021. With precautions being taken and hard work, it's looking like it will be a successful and COVID-free season for the girls.