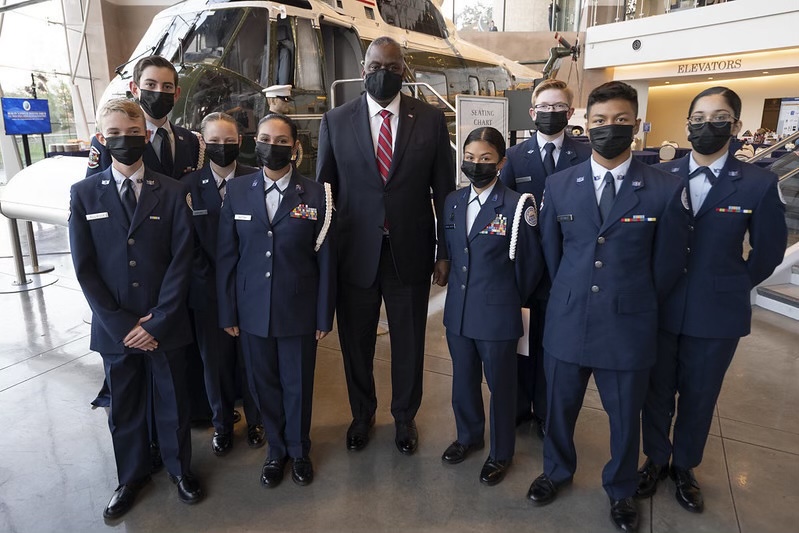 Ethan Wood
Royal High School has various classes for students to enroll in, ranging from AP and IB, all the way to woodshop. However, an option many people don't know about is AFJROTC. AFJROTC stands for Air Force Junior Reserve Officer Training Corps, and Royal High School may just have the best Unit available. There's much more to ROTC than just the PE and elective credits.
"There are unparalleled leadership and career opportunities, regarding Aviation, Management, Inventory Management, etc," said Cadet Lieutenant Colonel Spencer Hise. "We have Several Teams and Clubs such as Marksmanship, Aeronautical Club, Drill Team, Color Guard, Sabre Team, Raider Team, and Hiking Club. There are also community opportunities at the Reagan Library for volunteer or Air Force bases, JPL (Jet Propulsion Lab) and more for Field Trips."
One of the most prestigious events Cadet Lieutenant Colonel Hise mentioned, is the Reagan National Defense Forum. Our school's Unit gets specifically asked to be there each year, because of how good we are. The National Defense Forum takes place at the beautiful Reagan Library, right in our backyard. Cadets who get selected for this event have the opportunity to meet top military generals and even the Secretary of Defense. 
If you've ever felt like your classes are too restrictive, ROTC will be something you want to check out.
"ROTC offers a sense of responsibility and family which is not something all electives can offer," said Cadet Lieutenant Colonel Spencer Hise. "Everything you do has an effect on the Corps as a whole. We are a cadet-run Corps and all decisions are made by us. We coordinate with the Reagan staff and Local Event Staff directly and have a large impact on how our classes are run and how we teach things. ROTC also offers many opportunities outside of school."
If you still aren't impressed with what ROTC has waiting for you, they have a considerable amount of college opportunities, specifically for ROTC cadets, ranging from ROTC scholarships, all the way up to the Service Academies for the US Military.  
At a minimum, ROTC teaches cadets a sense of Integrity, Leadership, and Family. It's truly an experience everyone should try.