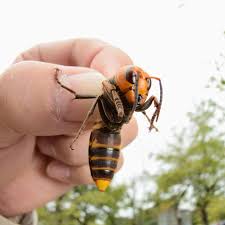 Vespa mandarinia, known more commonly as the Asian giant hornet, has recently been seen in the US. These hornets are the largest known species ranging from 1.8 – 2.2 inches and are native to temperate and tropical East Asia, South Asia, Mainland Southeast Asia, and parts of the Russian Far East. The hornets were first reported in North America in August of 2019 in British Columbia, Canada. In December of 2019, they were reported in Washington state. These hornets typically avoid humans, although they can be lethal, responsible for around 50 deaths each year in Japan. However, most are due to allergic reactions to the venom. The bigger concern these insects pose is their food source. They feed on primarily honey bees. This may seem like nature just taking its course, but it's important to remember that the Asian giant hornet is an invasive species. As little as 6 of these hornets can take out a hive of 30,000 honey bees in a matter of hours. Each hornet kills roughly 40 bees per minute once inside the hive. This is a big issue. Honey bees play a crucial role in ecosystems because they are a major source of pollination for flowers.
Honey bees are already an endangered species, and this could be the last straw for them if left unchecked. The bees didn't evolve with the Asian giant hornets, so they have no defense against them. Pollinators such as honey bees are accountable for 1 in three bites of food taken in the US. According to the US department of agriculture, the pollinators increase the country's crop value by $15bn each year. Losing honey bees as a species would literally cost us billions. Scientists are scrambling to come up with a plan to eradicate this hornet species in the United States as quickly as possible so that they don't establish a presence to the point where they can't be killed off. Spring is the start of their life cycle so their numbers are expected to grow even more. "They better act fast before their window of time closes." Said junior Ernesto Castellanos. It's anyone's guess how long that window will stay open for.
Beekeepers in Washington are laying traps and preparing for the worst. Not only are their bees in danger, but they are too. With a stinger ¼ inches long, the Asian giant hornet can and has punctured through beekeeper suits. In one reported case, the stinger punctured through not only Vancouver Island beekeeper Conrad Bérubé's suit, but his sweatpants and shorts underneath as well. He had been tasked with exterminating a nearby nest, which he did, at the cost of being stung at least seven times. Any more could've been fatal. It is still undetermined if or how these hornets will be stopped, but even amongst everything going on right now this issue needs to remain a priority to solve.