DIY Makeup Gurus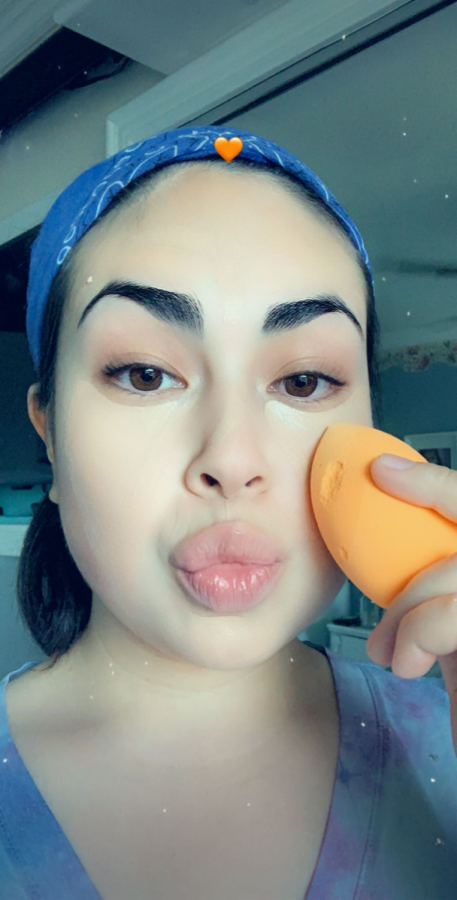 Yessenia Arechiga
May 28, 2020
In the midst of all of the chaos surrounding the country during this time, many people have taken it upon themselves to perfect some of their skills. From exercising at home to binge-watching shows on Netflix, students at Royal High School, and the whole nation for that matter, have taken up many hobbies. One of those hobbies happens to be the perfection of their makeup skills and skincare routine. 
With all the time placed in the hands of the students, there has been a surge in skincare interest and perfecting makeup skills. Research done by Business Insider found that from the month of January to March skincare products had a 3% growth in sales, but quite spectacularly, skincare products saw a 13% growth from February 29th to the present day. Alongside the growth in sales, there has also been a burst in the uploading of guides to follow a cleansing and satisfying skincare routine. With stars like Jennifer Lopez and Jessica Alba, uploading a step by step of their routine, with links included regarding what products they use and where they can purchase them, more and more people have been able to start taking care of their skin and find good ways to keep themselves looking hydrated and fresh, even if they are only staying home. 
Furthermore, the makeup and beauty industry has seen its own type of growth in sales. Business Insider released that makeup sales have gone up about 4% from the end of January to now. Different beauty stores like Sephora, Ulta, and the online store Morphe have been having sales on all the different makeup they sell. Morphe has been having sales from 25% off to 50% off on all the different eyeshadow palettes they have made collaborations with and all of their makeup brushes have been sold on sale prices throughout the quarantine. Alongside that, makeup entrepreneur, Jeffree Star, released a new makeup collection called "Blood Lust" that was gaining popularity from the end of February to March.
When Royal students were asked about any changes or advancements in the self-care routines many students gave their true and honest opinion on their improvements. Junior, Monica Lopez said, "I've been able to get more into eyeshadow and I feel like an artist and I'm improving and it gives me time to destress." Sophomore, Shirley St. Clair said, "I have been improving on eyebrows and eyeshadow makeup. And also a good skincare routine." Like Lopez and St. Clair, there are many other students who said that they were really trying to use their time off from school to perfect the skills they had already had before the quarantine. Even though not all students are taking time off of their days to get into more improved self-care routines, they have found many different ways to stay entertained and sane in these times of self-isolation. From doing different beauty routines to bouncing off of Tik Tok or other social media platforms, Royal students have been productive in their own ways and have kept themselves in safe conditions.