Apollo 11
Samantha Aguilar, Editor in Chief
November 5, 2019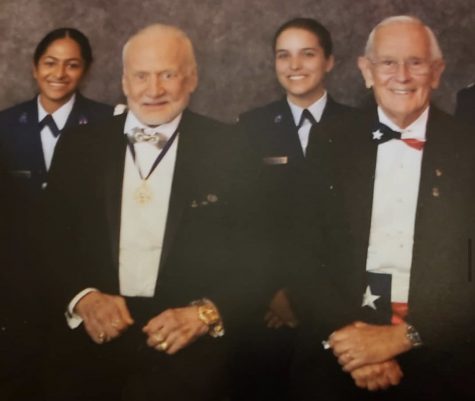 On July 13, the 50th anniversary of Apollo 11 took place at the Ronald Reagan Library. AFJROTC cadets had the privilege of volunteering at this event. Only 25 cadets were selected to participate in this event.
There was a wide-range of jobs for the cadets to do, such as building rockets, setting up tables, helping with auction items and much more. Senior Faith Dorch said, "I am so happy that I was chosen to participate in this event, I had a lot of fun and it was a once in a lifetime opportunity." Cadets Parker Wilbanks, Faith Dorch, and Natanya Koshy were lucky enough to take pictures with Buzz Aldrin.
The day was filled with fun activities and many auctions were held throughout the day. Senior Jeremiah Snell said, "I'm so glad that I was able to go to this event, I was able to meet so many people as well as getting to know other cadets in the corps. I'm excited for future events that we'll help with."
Some cadets escorted VIP's and took care of the important auction items that no one could touch. Everyone had an amazing time at this event, many volunteered from 5:00-11:00 p.m. Towards the end of the night the cadets were treated with a four course meal for all of their hard work and were able to sit down and enjoy themselves. The cadets are always excited to help in any way they can and can't wait for more volunteer events.