Urban Logging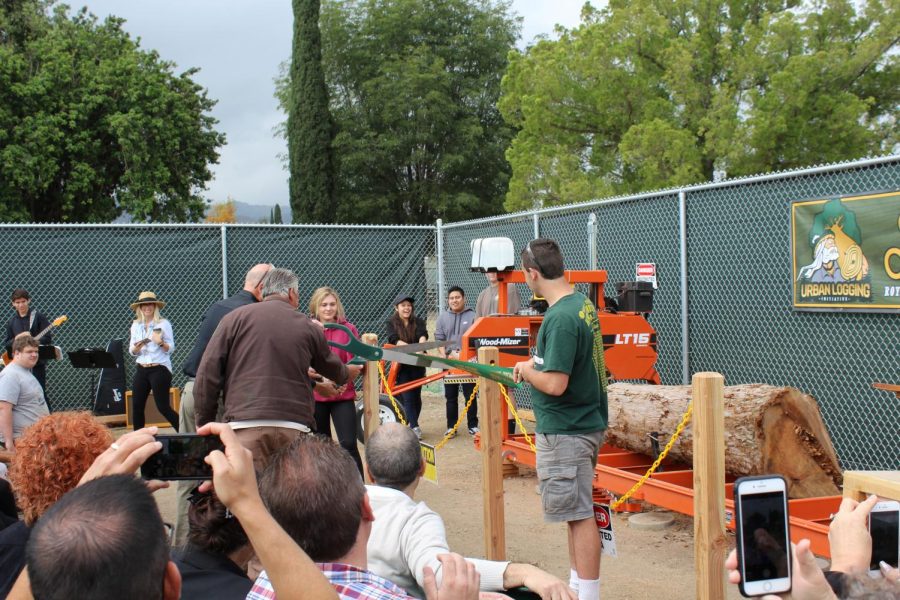 Lauren K.
October 30, 2018
At the end of last year, May 22, the Royal High School woodshop department hosted the Urban Logging Initiative Grand Opening. The event was full of Royal students and staff, as well as School District members, Parks and Recreation workers, and students from Sinaloa Middle School.
The Urban Logging Initiative is essentially a lumber mill run by students at Royal in partnership with Simi Valley Parks and Recreation. The idea of urban logging was first thought of by Sinaloa's wood shop teacher, Mr. Knizek. The initial goal was for wood shop students to be able to see what happens to wood prior to what they do with it in class.
Now, the Urban Logging Initiative has turned into something much greater. With the wood supplied by Parks and Recreation, trees that would have alternatively been sent to a landfill can now be made into lumber by Royal students, and put back into the community. This program is able to save the Simi Valley School District close to $5,000 in wood costs. The initiative was made possible with the VC Innovates Grant from the school district, along with many other contributors. Wood shop even got the art department involved, with a contest to design a logo for the Urban Logging Initiative.
The Grand Opening also included a ribbon cutting and a demonstration of how the school's new LT15 lumber mill will work. Not only is the Urban Logging Initiative good for the environment and the community, but it also allows woodshop students to be a part of something unique that normally isn't done at schools. Mr. Sorenson said, "Hopefully, it has the chance to affect students in a positive way during their time at Royal." Now that the initiative is underway, we can expect even more amazing things to come from the Royal wood shop department this year.