Haunted Halloween House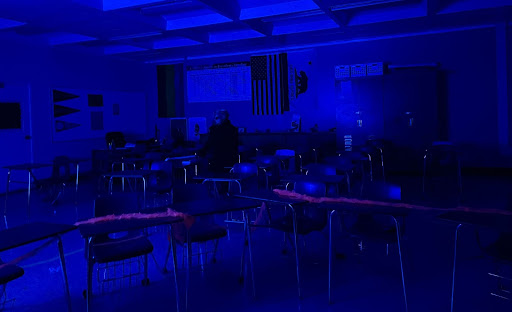 Halloween just passed on October 31. To celebrate, students volunteered and set up a fun Halloween night for everyone to enjoy. We hosted the 3rd Annual Trunk or Treat, sponsored a Pumpkin Carving Contest, and a Haunted House created by students Chloe Dury and Anjali Nakkala.
The Haunted House took place on Tuesday, October 25, and was from 5:30 p.m. to 8:00 p.m. It was located inside the 5 and 6 buildings- with tapes describing how to reach the end of the haunted house. The entry fee was $5, and all the proceeds were donated to the Breast Cancer Research Foundation as a part of Dury and Nakkalas' CSI project.
This was the first school haunted house that has been made in the past couple of years, so many students weren't sure what to expect. The overall consensus from students leaving said it was fun and not exactly what we expected. Some of the rooms inside the hallway were open, and you could enter and look around. It was dark and spooky, and there were random jumpscares. Senior Halle Scholbrock said, "One of my favorite things about the haunted house was the blue room with the eerie woman crying… It was very spooky."