Everything to know about Link Crew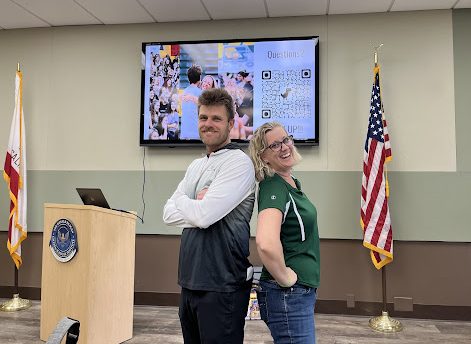 Attention incoming juniors and seniors, do you love showing school spirit? Would you like to help incoming freshmen around the school during their orientation and the first day of school? Then link crew is for you! On Thursday, April 13, was a meeting was held in the CSI room where assistant principal Ms. Patti Myszkowski and teacher Emmet Furlong presented all the information about link crew.
Myszkowski started off by presenting important information on Link Crew such as: important dates that participants can't miss, applications located on the Royal Decree and website, and applications due on April 28. Myszkowski also presented information about how there is room for a limited number of people and not everyone will make it, of course depending on the amount of applications they receive. Also, there might be times throughout the school year where they may need help from the link leaders.
"I am given the opportunity to make friends, learn to be a better person, and make incoming students feel welcome at Royal,"  said junior Oscar Catalan. Catalan is going to be a senior next year and wants to start being more involved for his last year. Link Crew is perfect for being more involved since there might be times where Link Crew's help is needed. For example, at sports games, open house, freshman study sessions, etc. "I want to prepare new students to transition from middle school to high school," said sophomore Andrea Partida. Partida enjoys making new friends and loves being involved at school. If you're interested in Link Crew make sure to talk to Myszkowski if you have any questions, and turn in the application before April 28.