Mini College Fair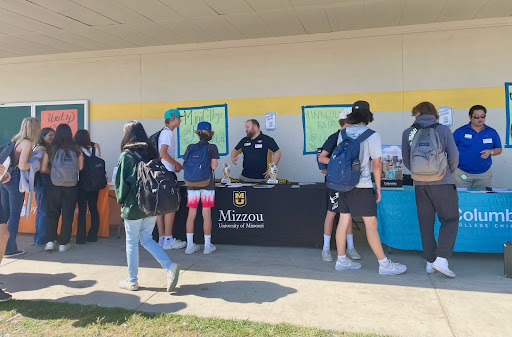 Attention students! Do you want more information on colleges and universities to be more prepared for life after high school? Royal High School hosted a mini college fair in the main quad during lunch on Tuesday, October 17.
There were ten tables set up for each of the ten colleges that attended. Some of the schools present included: The University of Alabama, the University of Missouri, Northern Arizona University, Arizona State University, Syracuse University, and the University of Minnesota.
The college representatives were amazing by helping students with any heart-burning questions they might have had, and by giving answers and educating them with lots of important information about their colleges/universities. The mini-college fair was a great opportunity for students to get more insight into colleges/universities that they might be interested in. If you didn't get a chance to visit these booths, don't worry. In the next weeks, there will be even more college representatives visiting our school to speak with students.