Fabulous future fundraisers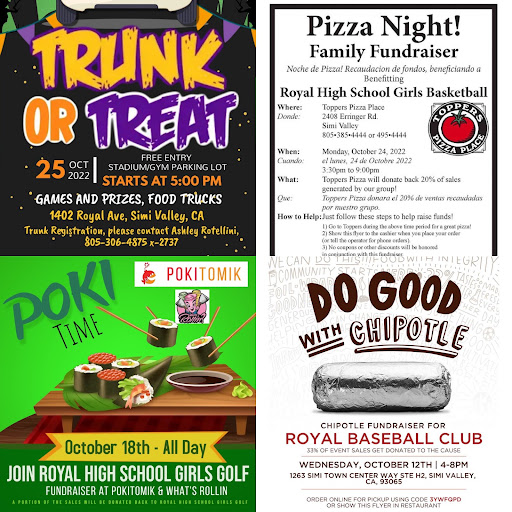 Warning: upcoming delicious ways to raise money for our school, and help support our many great programs. There are a few different settings to attend to be able to participate in fundraising throughout the spooky month of October. Whether it's enjoying a meal with family or friends, you'll be contributing to our campus. 
On Wednesday, October 12, baseball held their appeal for funds at Chipotle! A total of 33% of profits made from this night was donated to our very own baseball team. These funds produced will be used for several important things to help the program.
Do you like trying irregular foods like rolled ice cream? Today, October 18, girls golf is holding a double restaurant fundraiser. Luckily for you, they chose What's Rollin, which happens to conveniently be right next to the other, which is Pokitomik. These two establishments can be found next to Homegoods, Reds BBQ, and Panera Bread on Cochran Street. Varsity girls golf member, Yumnah Shoaib thinks, "Holding the event at a rolled ice cream shop will bring in a lot more traction since it's different than most restaurants." She additionally said, "It will be a great event for the program and bring in money for future years." The event lasts all day, so feel free to come by and shop at whatever time works best for you. Similarly to baseball, girls' golf will receive a portion of the money raised. 
If you're more of a pizza person, girls' basketball has you covered because they're holding their occasion at Topper's. The address is 2408 Erringer Road, Simi Valley. It will be held on Monday, October 24 from 3:30-9 p.m. In exchange for our support Toppers will be giving 20% of sales back to our basketball team. Unfortunately, online orders will not be included, so make sure to bring in the flyer when you go! For additional questions, their phone numbers are 805-385-4444 or 805-495-4444. If you've never tried pizza with ranch or red chili pepper flakes, now's your perfect chance to find out the hype!
An honorary mention is an event taking place starting at 5 p.m. on Tuesday, October 25, Trunk-or-Treat. This is our third annual event taking place in our stadium (gym) parking lot. This free event features games and prizes with a side of food trucks. Don't forget to get spooky this season!