Echos Chicos Club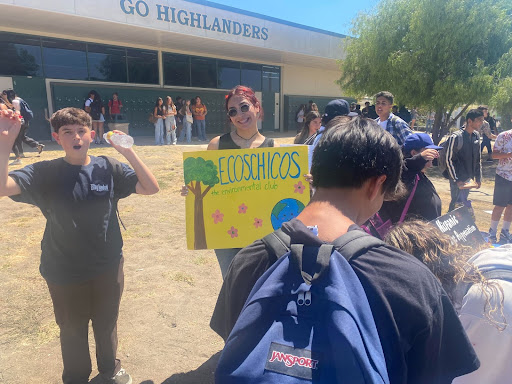 Echos Chicos is a club working towards keeping the world a cleaner place. It is an environmental club, trying to keep the earth clean. The Echos Chicos club helps students to take their future into their own hands, and that's on starting with the environment in which we live in. We all thrive and obtain satisfaction from a clean  and healthy environment. 
Sophomore Anny Zermeno said, "I joined this group my sophomore year because I was interested in how to make a difference." Everyone's main common goal in Echos Chicos is to educate themselves on taking care of the environment, making sure they are taking the right steps to ensuring that they are doing the best they can. The responsibilities of the club include creating activities, planning clean-up events, planning field trips as well and making sure everyone is having fun! 
Being a member of  the club will teach you how important taking care of the Earth can be. Zermeno said, "The end goal is definitely to spread the word about awareness on how you affect the earth, one small thing makes a big difference." The club is great for anyone who enjoys learning about making difference for not only themselves but the environment. If you are interested in joining this club you can join the remind @ec0schic0s. You can also check out their Instagram page @royalhs_ecoschicos to see what echos chicos is about. If you join this club not only are you helping keep clean our environment, but it is also great meeting new people and experiencing fun events with them!