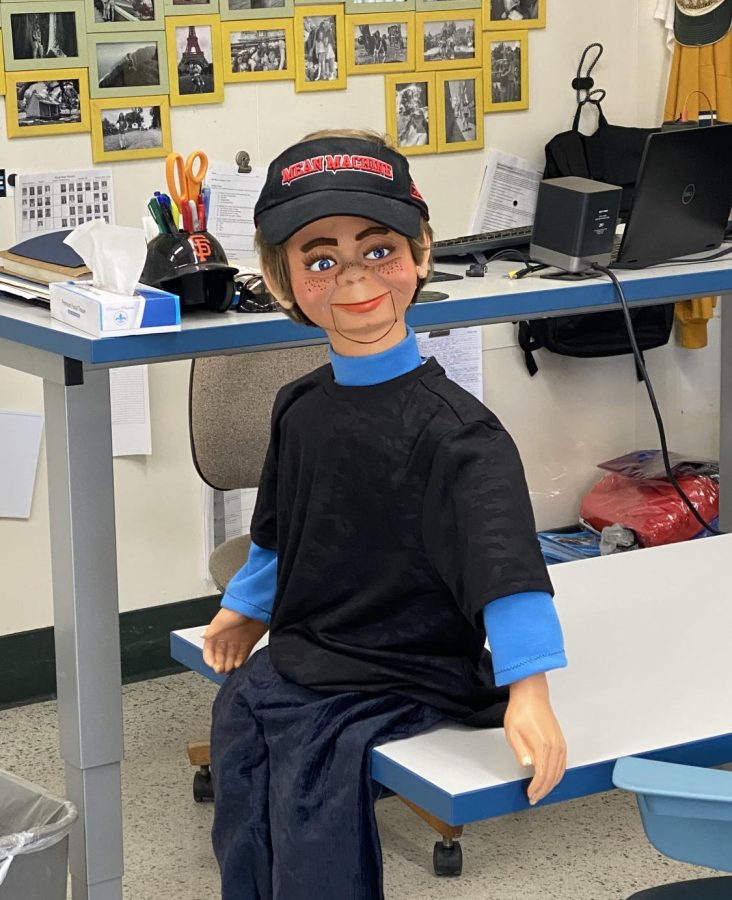 Conner Noeske-Landis
Our school has a well-known mascot named Stevie The Highlander. He attends your sports games and he rallies up the crowd. However, is there a new challenger for the Royal throne? There just might be. Ricky Baker the Ventriloquist Dummy has been making waves in the school. He is a wooden boy with rosy cheeks and freckles, blue eyes, brown hair, and a happy smile. Ricky has made cameo appearances in multiple school news broadcasts and he even has his own Instagram account: "@cultofricky". That account has risen to around 500 followers. Mr. Downey, Economics teacher, is one of the fathers of the little wooden boy and he has shown Ricky off in class and even at October's "Trunk or Treat". Children would walk past him and not take their eyes off him. Ricky has a very interesting story and his rise to fame has not only been in the school but in the country as well.
"I knew Ricky was born in California but lived most of his life in Virginia adopted by a woman named Roz," said Mr. Downey. "Roz actually special ordered Ricky by a manufacturer. She chose his features, such as his eyebrows going up and down, his eyelids can open and close, his eyes go back and forth, and he has real human hair."
Mr. Downey found in a newspaper article that Ricky was made available at an estate sale, but nobody purchased him so he went to Thrift Store USA. Downey adopted Ricky on June 22, 2021 at Thrift Store USA with $425 cash in hand. Ricky actually stays with Mr. Rounke, who teaches kids with special needs. Ricky sometimes stays with Mr. Downey and he rarely stays with Mr. Lev, the yearbook, web design, and game design teacher. Ricky was the focus of a popular podcast called "A cup of tea and a chat with Allie and Bean" where Bean said "It's like there's a cult of Ricky" which is where the name for Ricky's Instagram came from. You can learn more about Ricky from that podcast where Allie talks about her relationship with Ricky.
"Stevie The Highlander is and forever will stay the school mascot. Ricky is just very happy to support Stevie and be his "hype man," Downey added.
Ricky lipsynces on Instagram, he has been featured in a couple of videos, one of which where he was getting ready to crash one of the teacher's weddings. "I don't know the future of Ricky, but I do expect him to make it into film and television which will take him away," Downey said.
Ricky was a special order from Roz who retired and had to give up Ricky, but now he is a special wooden boy in many of our students' hearts. Hey maybe unsettling to some, but he is here to stay and he is becoming more of a Highlander himself every day.