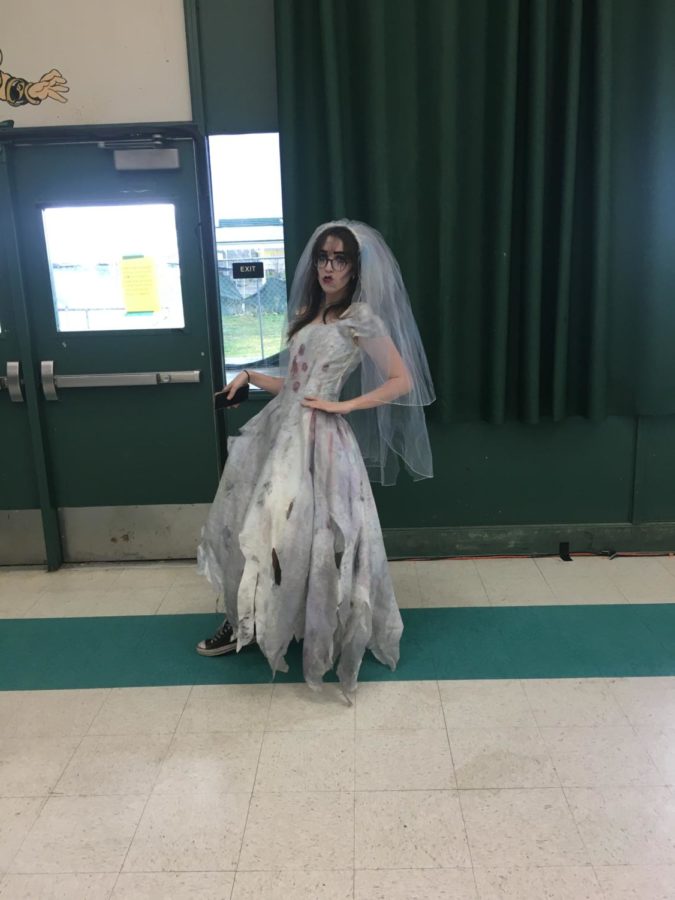 Haylee Dean
Due to Covid, a lot of clubs and classes had to dramatically change how they do most activities. The theater program last year was cut short due to Covid and this year isn't any better due to the shutdown. The drama coach, Suzy Jeffords, is working hard for the theater program and trying to make the best of it during these trying times.
Since not being able to produce shows, the theater program has experienced some cuts. Without the ability to make money or to recoup and just break even, they won't be able to do shows at this time. Alongside Covid, the drama program doesn't even have a theater right now, since it is currently under construction. No one is sure what the timeline is for it to be finished, but until it is, they will just have to do shows on where they can rehearse and perform. When they can go back and do shows Jeffords is hoping to try to team up with the Sinaloa Middle School and do a show with them. The Drama club has an amazing costume closet and she thinks it would be great if we could rent costumes out for fundraising or even share and collaborate with other high school theater departments.
Last year, the musical was stopped before it could fully finish but with the night they could perform they made the best of it. The musical they were doing last year was The Addams Family Musical, everyone who participated in the production of the musical wished that they could have finished all the nights planned to perform. "It was something to look forward to every day after school and when we finally got to show it to the rest of the school, we had to end it abruptly." said senior, Kyleigh Hays.
At the moment, they are working on a spring event, but it just depends on what they will be allowed to do and what they can pull together under these crazy circumstances. The Drama club has to be open and flexible to change and they are. Things can change so quickly but they are shooting to have a spring show. 
Jeffords said "If there is anything that I would want the students to know about theatre, it would be that theater is a place for everyone! I know I said it before and it does sound really cheesy but it is magical. It breaks boundaries and it makes a place for everyone and forges lifetime friendships but most of all, It's just a lot of fun! Whether you are on the stage or behind it, it will push you to be your very best and you will have more fun than you will know what to do with. If you have ever considered it or thought about it, even just a passing thought, come on out and try it, I promise you will never regret it!"