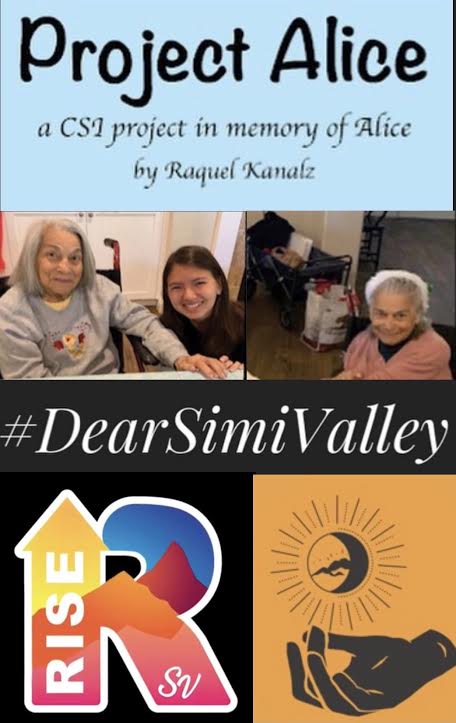 Raquel Kanalaz
This past year has been extremely challenging for all of us. We are living in a world of political divide, racial injustice, a global pandemic, economic struggle, and much more. We have faced so many challenges in these unprecedented times but we've been surrounded by strong community leaders and heroes who have gone above and beyond during this time. We as a community need to come together now more than ever to recognize and support these individuals and organizations and all that they've done. This story was inspired by the ongoing CSI projects here at Royal High School. Raquel Kanalz started a project in honor of a senior citizen named Alice. Raquel and Alice met two years ago while Raquel was volunteering at Park Vista Senior Living Center. Kanalz said "Whenever I'd come and do crafts with the senior citizens, I'd always be with her because in a way she reminded me of my grandma. She was small, quiet, and had a very sweet smile and laugh." Last year Raquel wanted other students to meet Alice and help volunteer at the senior center and have that same experience that she did. 
However, right before she started her project, Covid hit and everything got locked down. Alice sadly then passed away and Raquel never got the chance to say goodbye to her. So this year, she wanted to dedicate this project to Alice because the friendship was very special to her. Project Alice is an easy activity that anyone can join and create whatever they'd like for a senior citizen. From origami to even a digital drawing, the possibilities are endless! The best part is, you can create something that you are good at or even try something new, and it will bring a smile to a senior citizen. Raquel said "Since we can't visit the senior citizens in person right now, I still wanted the seniors to feel loved and cared for. At a time like this, they are sad they don't get to see their families. By creating something as simple as a painted rock, we can brighten up their day. Along with your craft, you can also include a special letter signed by you. The letter lets them know that the project was made just for them and that it is from a student." This project is welcome to anyone who wants to join, and lots of Royal's clubs are already involved such as Key Club, National Honors Society, Link Crew, and class councils. Sinaloa Middle School's NJHS has a group called Baha'i Faith which is also involved and they're hoping to do a safe in-person event soon! Hillside, Valley View, Santa Susana, and Simi High School are also participating in this project! "I have a lot of ideas for the future! When things go back to normal, we can get students to come to visit and do crafts with the senior citizens. I would love to get more people and other senior centers involved as well!" said Raquel. Raquel would also love to start a club here at Royal so that she can continue this project and impact the community even more! She hopes this project can give people a reminder to appreciate the elderly more and inspire others to reach out to their local senior centers and ask what they can do to help. 
Everyone deserves to have some friends and be loved despite age. With all that we've seen this year in regards to racial injustice, we as a community need to come together to help fight these challenges, and that's where RISE comes in. RISE is comprised of 6 women of color, President/Co-Founder, Roop Maan, VP/Co-founder, Kellie McManamon-Becerra, Secretary, Chloe Custodio, Director of Finance, Navi Kaur, Director of Volunteer Coordination, Natasha Zake, Director of Community Outreach, Suzanne Lance. 
Roop said, "I was inspired to start RISE based on my own experiences with racism and race-based bullying that I experienced in Simi Valley. I was bullied heavily throughout my 4 years at Simi Valley High School, constantly berated with racial slurs and stereotypes. It was a very hard time for me and I knew that if I had experienced that, that there were probably many more people out there experiencing the same thing. I am also watching people close to me experience the same racial bullying in schools and I wanted to help the community. I want Simi Valley to feel like home for a lot of people who may have felt neglected by this city in the past." The main goal of RISE is to provide a safe supportive space for marginalized Simi Valley residents and to empower the people of Simi Valley with knowledge, compassion, and coalition to create a Simi Valley free of discrimination and bigotry. They hope to create an impact by continuing the conversation that was started by local student Mikiiya Foster at her June 6th protest for the BLM movement. Their goal is to educate and empower our community to be better, and to make an impact by touching lives, and making people feel safe when they may have never felt safe in their hometown before. "It's not up to us to decide if we have made an impact, but we hope the effects of our work are felt by those we wish to serve," said Roop. 
Members of the community can help RISE by staying updated on social media and engaging with their material, sharing it with friends and networks, as well as signing up to volunteer for RISE. They also have monthly community calls which people can attend to provide their input on what they want to see us do and what they think are important issues in the city. In regards to any future projects, currently, they're heavily centered around providing food to people who need it as well as providing education. We are trying to implement a community fridge in Simi Valley that will be a place for anyone to come and get free food if they want/need it. They are also exploring other ways in which to get food to our food-insecure neighbors in Simi Valley. Additionally, they are currently in the process of working out a support group/mentorship program for those who have experienced racism. They also hope to work more to diversify the curriculum and the school system as a whole in Simi Valley, and they are currently in the middle of the ongoing Know Your Rights webinar that informs people of their rights in different situations. RISE has already impacted and accomplished so much for our community, Roop said. "We started off with a very successful viral video called Dear Simi Valley that amassed over 10k views upon release that highlighted some of the experiences of Simi residents who experienced racism here. The hashtag #DearSimiValley was trending due to the number of people using it to share their stories of racism and discrimination in Simi Valley. We have done virtual webinars including our Voter registration series, conducted with the help of Royal High School students, to showcase different marginalized identities and the importance of civic engagement. We also conduct many calls to action including one that resulted in the passing of an affordable housing unit in Simi Valley. We ran a donation drive this winter for Friends of Field Workers to provide Ventura County Field Workers with Christmas gifts for their family." These local heroes have gone above and beyond for our community and this goes to show that if we come together and put forth an effort that we can accomplish great things.