The Greatest Show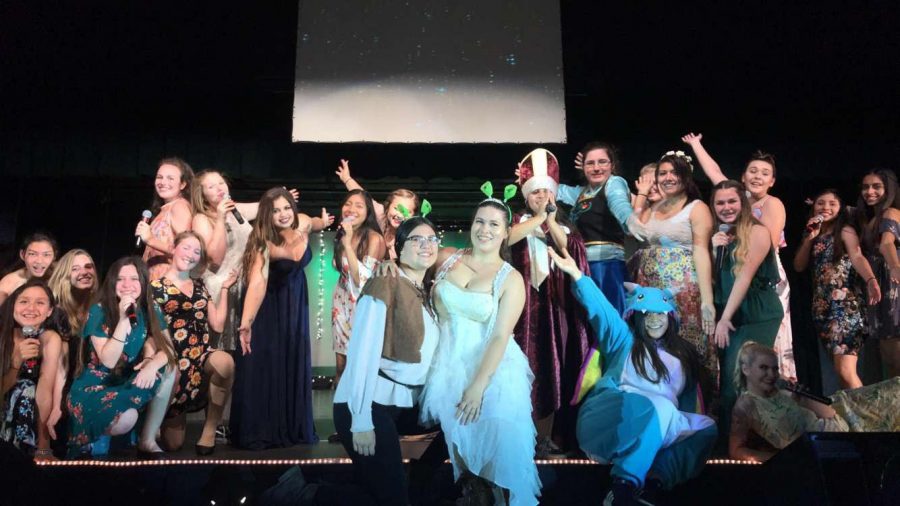 Alex E., Opinion Editor
May 29, 2018
On May 23, 24, and 25, Royal High School had its annual Finalé by the Vocal Department. This year's theme for Finalé was Stage & Screen, with an assortment of songs from movies and Broadway plays. The show was directed and produced by our adored choir teacher Mrs. Graeve and her student teacher Ms. Spielman. There were 29 enthusiastic and beautifully performed songs throughout the entire night, with both the women and male choirs singing their hearts out. Not only was there singing, but there were also many dance numbers choreographed by the students for the performance.
From dance numbers to songs like "Head in the Game" from High School Musical and "King of New York" from Newsies, to singing and dancing extravaganzas like "Staying Alive" from Saturday Night Fever and "It's Raining Men" from Priscilla, to beautiful performances of songs like "What I Did For Love" from A Chorus Line and "Don't Rain on My Parade" from Funny Girl, there was something for everyone at Finalé.
Freshman V. Echegaray said, "Finalé has been the best experience of my life. Everything from learning the songs to choreographing the dancing was a challenge, but watching it all come together is amazing. The screams of people when the curtain opens makes you know that they are excited and happy, and that's everything I could ever ask for." Junior E. Pham said, "Finale gave me that feeling of confidence to see what potential I've got in life overall, especially with those around me. I bring out the positivity, it wasn't just a show to sing, it was something that showed a lot of things: emotion, determination, and respect. You can see it in the quality of the production."
This Finalé was extra special for Mrs. Graeve, who is retiring at the end of this school year, after an amazing 21 year career of teaching here at Royal. In honor of her retirement, her successor, Ms. Spielman, secretly invited all RHS Vocal Department Alumni to sing and dance to "We Are Family" by the Sledge Sisters, as well as to say some kind words to their old teacher. Overall, the Vocal Department's Finalé Stage & Screen, was an entertaining show full of singing, dancing, and lifelong memories for everyone involved.